Rhythms For Living's Recommendations
Looking for ideas for instruments, books, CDs, props, even therapy tools? This page gives you suggestions of websites and recommended products.
Xylophone Fun eBooks:
Click here to view our Xylophone Fun eBooks available for purchase.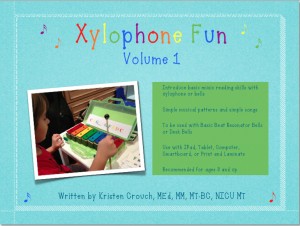 Recommended Products:
Click here to view products recommended by Rhythms For Living which can be purchased through Amazon, often with free shipping.

Resources for Therapists, Teachers, and Parents:
West Music – Quality instruments, dancing props, cds and books, & more!
Music Theory Flash Cards and Worksheets
National Institute for Infant and Child Medical Music Therapy
Tuned Into Learning – Music curriculum for children with autism and special needs
Rhythm For Good – Drumming/Wellness/Boomwhacker Resources by Kat Fulton, MM, MT-BC, NICU MT
Listen and Learn Music – Music Therapy/Educational Songs/Autism Resources by Rachel Rambach MM, MT-BC
Songs for Therapy and Speech – Children's Songs for Therapy by Rachel See Smith, MA, MT-BC
Songs For Teaching – Using music to Promote Language
Tunes For Moving – Pamela Ott
Tunes For Relaxation – Pamela Ott
Songs for Transitions – Songs For Teaching: Transitions
Songs for Spanish – Songs for Teaching: Spanish
Songs for French – Songs for Teaching: French
My Baby Fingers – Baby Sign Language