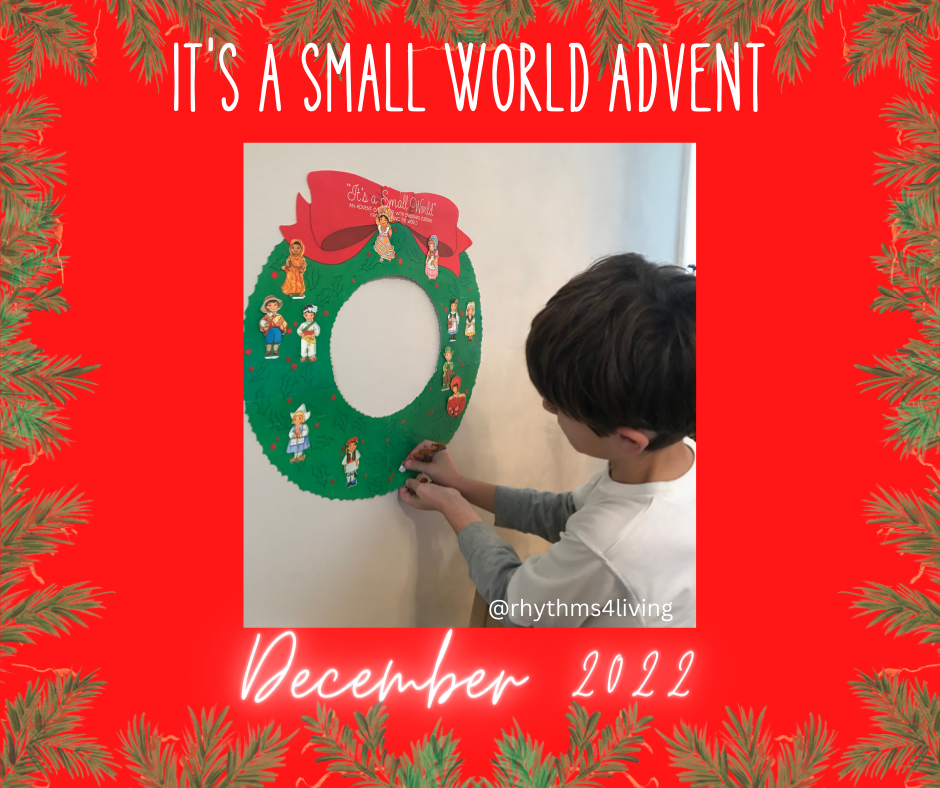 We have been loving our Small World Advent Calendar this month! This is a childhood treasure of mine and I have shared with with my boys the last few years. Every day we get to pull out a new child from the bag and read about how Christmas is celebrated in their country. The calendar was made by Walt Disney Productions.
We shared with you Day One where we learned about Christmas in Norway. You can read about it here. Today I am sharing with you the children from Day One to Day Thirteen. We are more than half way to Christmas!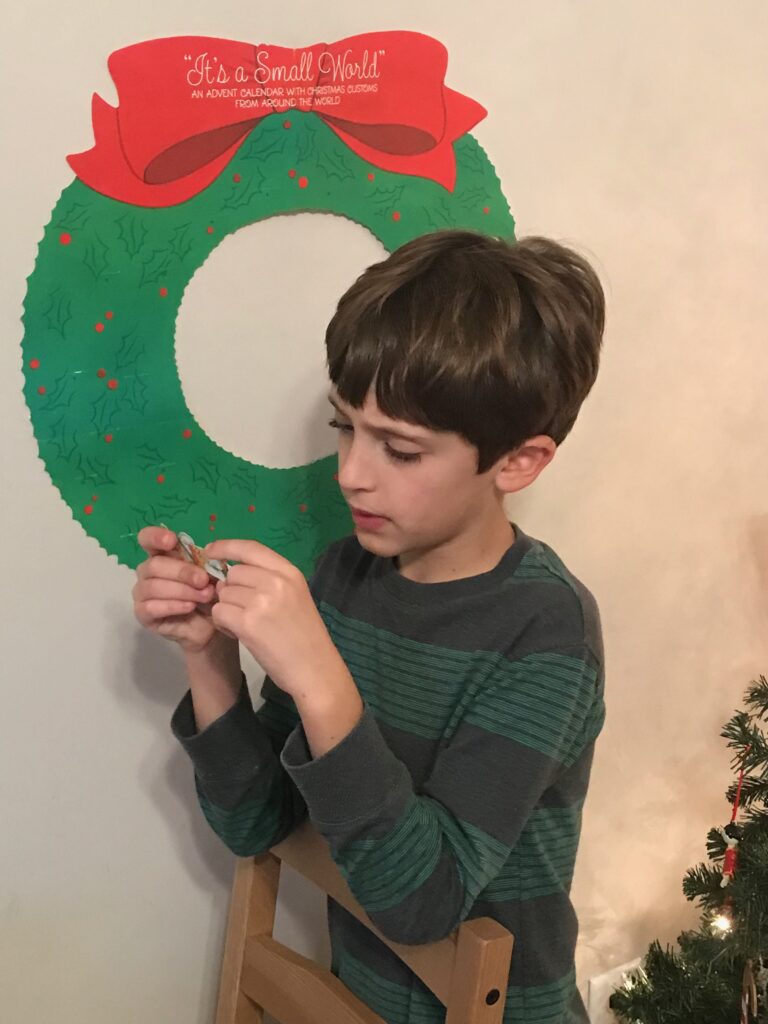 ---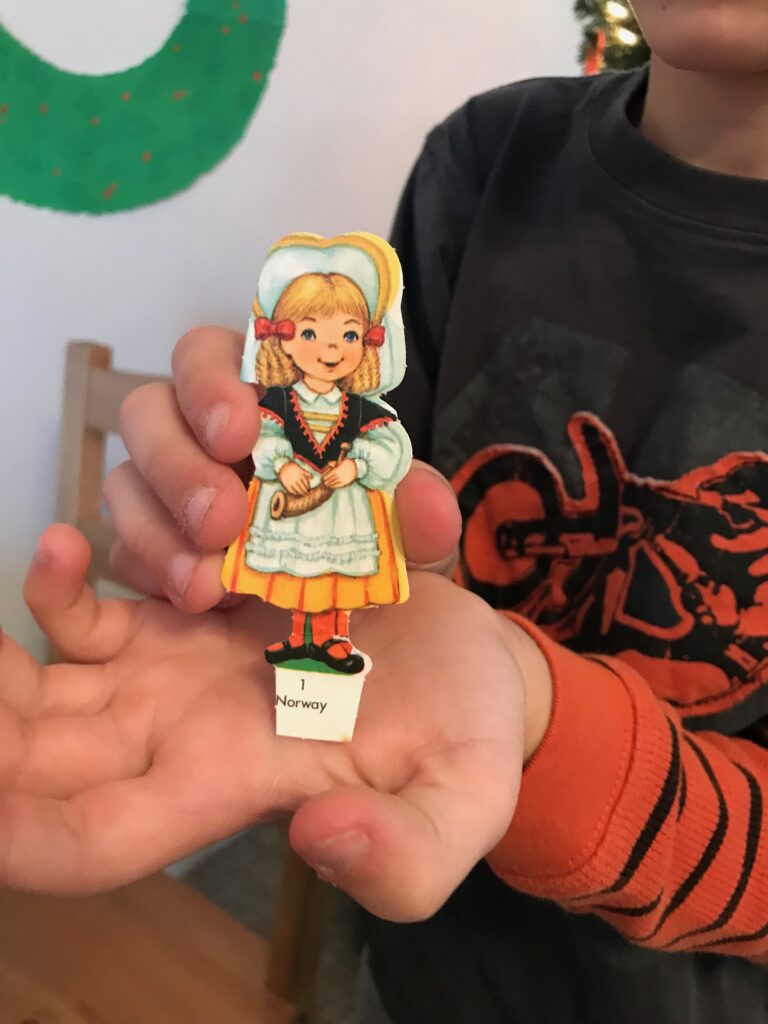 December 1st: Norway. "At Christmas time, Norwegian children dress up in costumes and go from house to house asking for treats much as American children do for Halloween."
December 2nd: Korea. "Early morning caroling is popular in Korea. Groups travel from house to house awakening their friends in the church community. By the time the caroling ends, a beautiful Christmas Day is dawning."
December 3rd: Greece. "Greek children celebrate Christmas with singing and eating. Children go from house to house singing carols and collecting small treats. Everyone enjoys nut cakes (Christpomo) and cakes covered with powdered sugar and honey (Melomacaroma)."
December 4th: Ethiopia. "On Christmas morning in some Ethiopian cities, the people make a colorful procession to the church or to a nearby hilltop for special services. After the services, the day is spent in dancing, participating in sports, and eating."
December 5th: Ireland. "The Irish put lighted candles in their windows to invite strangers to stop and rest, if like the holy family they are looking for a place to stay. Wanderers are given a meal, a night's rest, and a little money when they leave the next morning."
December 6th: Brazil. "December in Brazil is a summer month when beautiful flowers are in bloom. Christmas celebrations include picnics, fireworks, boating events, and open-air fiestas. Santa Claus in Brazil is called Papa Noel."
December 7th: Netherlands. "St. Nicholas visits the Netherlands on December 6. He arrives by steamship and rides through the country seated on a white horse. At his side rides Black Peter, who carries gifts for the children."
December 8th: Poland. "In Poland, a Christmas Eve supper is served at which the number of dishes must always be odd – 5,7,9- and the number of guests must always be even. In the country, leftovers are given to the animals because, according to legend, they gain the power of speech at midnight and should be treated as equals."
December 9th: Chile. "At Christmas time in Chile, dancers dressed in red, blue, and green costumes perform beautiful dances. Vendors in the streets sell dolls, trinkets, and hot meat pies. Fiestas much like our county fairs take place."
December 10th: United States. "We celebrate Christmas in the U.S. in many ways, each reflecting our rich heritage. Hawaiian children believe that Santa comes in a boat, Alaskan children carry a large star as they go caroling, and Pennsylvania German children may believe in "Pelznickel," a gift-bringer similar to Santa Claus."
December 11th: France. "French homes have Christmas trees that parents decorate with small toys and candy after the children have gone to bed on Christmas Eve. In addition, Pere Noel (Father Christmas) puts gifts in the children's shoes that have been carefully set out by the fireplace."
December 12th: Italy. " Favorite Christmas foods in Italy include eel, cardoni (a Jerusalem artichoke cooked with egg), and special sweets such as torrone (a caramel nut cake). Children receive gifts the chimney and fills their shoes with treats or coal."
December 13th: Australia. "Christmas is a summer holiday in Australia just as it is in Brazil. One of the most popular traditions in Australia is open-air caroling. Whole communities gather at dusk to sing beautiful Christmas songs by candlelight or torchlight."
Stay tuned as we continue around the world!