Xylophone Fun Christmas Edition
During my teaching I found a need to create a curriculum for my students to teach them basic music reading skills. Most of my little students were learning to identify and match colors and letters. They were also learning basic reading skills. I found that my students, mostly students with special needs, were soon able to match the colors and letters and follow simple patterns. So I used the xylophone and desk bells which I had in my music collection, created some basic patterns to correspond with the colors and letters on the instruments, and soon my students were proudly playing simple but familiar songs. Their confidence soared. So did their literacy skills, movement skills, and pre-piano skills.  There were so many transferable skills being taught through this method that I felt that I needed to not only continue to use it in my teaching but I also needed to share it. It is a simple enough method that any teacher or therapist or parent could engage their child in basic music reading and enhance many other skills along the way.
The Xylophone Fun Curriculum comes in Volumes 1, 2, 3 and Christmas. This is an online resource which can be added into the classroom, therapy, or home setting very easily. (Instruments are sold separately.) Children are able to first match color and then the letters from the visual to the xylophone or bells. Doing these simple songs offers exercise in letter recognition, matching, basic reading skills, fine motor skills, and basic music reading skills. Parents, teachers, and therapists can use this resource with their children ages 3 and up. It is a fun and motivating way to target multiple skills and kids will feel success as they play simple well know songs!
Having the child sing while playing takes the skill level a step further. To sing and play at the same time is really working the brain! Plus, many students need to work on their speech and singing is a great way to do that. Also, we are encouraging reading skills even more. There are currently two volumes which include the songs with and without the lyrics so that kids can sing along while playing: Xylophone Fun Volume 3 and Xylophone Fun Christmas.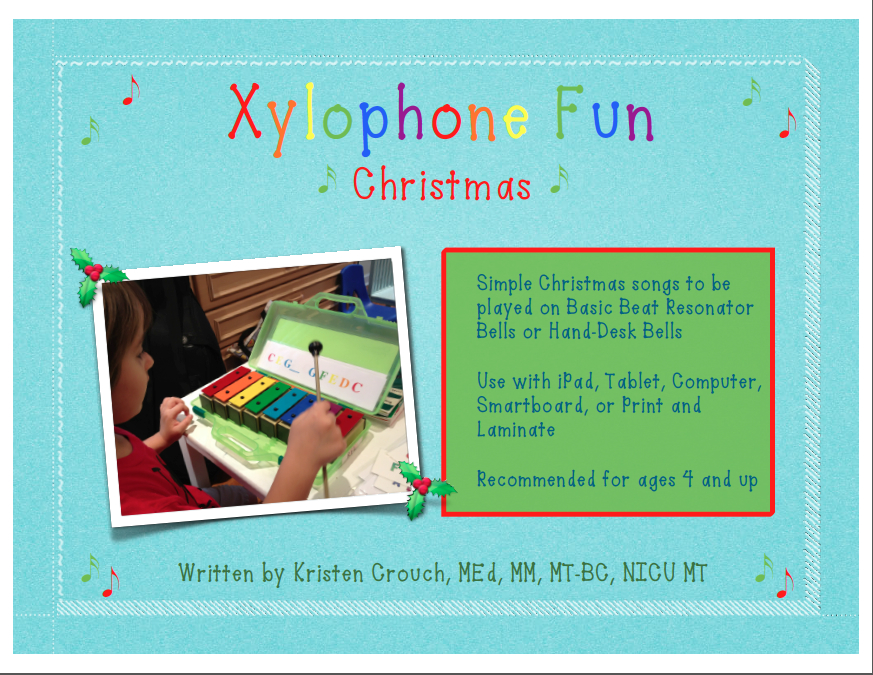 Here is a fun collection of Christmas songs just in time for the holidays. The lyrics are provided for sing-a-long fun!
Bohemian Bell Carol
Jolly Old Saint Nicholas
Jingle Bells
Angels We Have Heard On High
Up On The Housetop
The First Noel
Over the River and Through the Woods
Included in your Xylophone Fun Christmas eBook (PDF file) is a xylophone layout, xylophone visuals, these seven simple songs, as well as hints on how to use the resource.
Please note the age suggestion on this volume is age 4 as it is expected that the child would have already worked through the first one or two volumes and have acquired basic skills. I would not recommend starting off with this volume for this reason. However, if your child has some basic music reading knowledge or can easily follow basic patterns they should be able to play the songs in this edition.

Need to purchase an instrument to use with your Xylophone Fun Curriculum?
Need more info and choices: visit our eBooks page for MORE INFO about the instruments which can be used and where to purchase them.
Ready To Buy: here are a few links to purchase instruments directly from Amazon.
Disclaimer: "We are a participant in the Amazon Services LLC Associates Program, an affiliate advertising program designed to provide a means for us to earn fees by linking to Amazon.com and affiliated sites." (For anything purchased on Amazon.com through the links provided in the page. The eBooks are NOT part of this program and are not available through Amazon.)