Happy Holidays Everyone!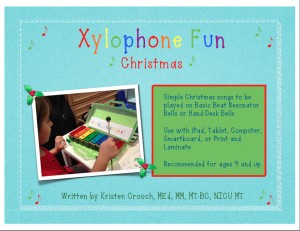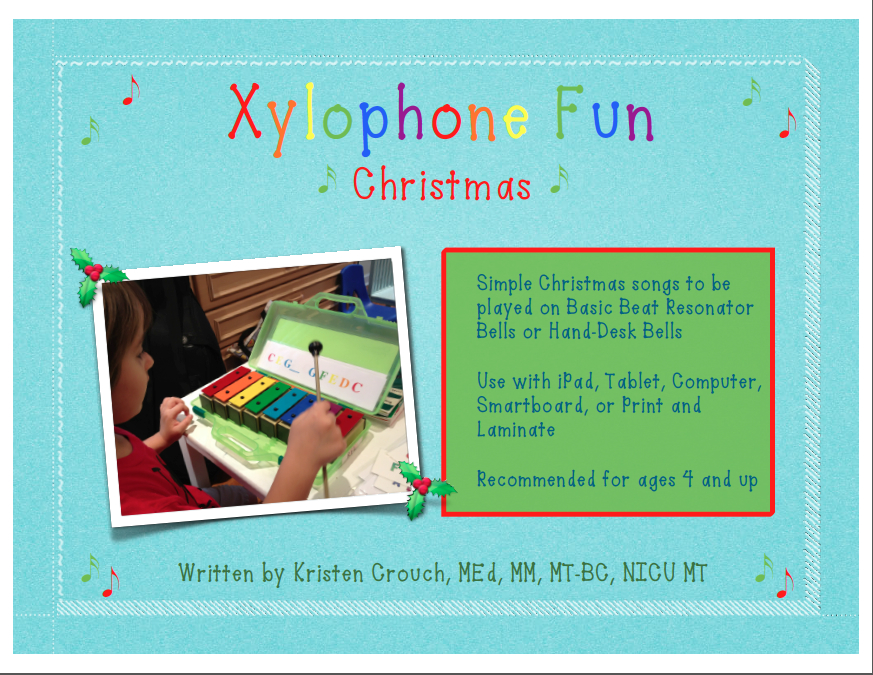 A year ago I created my first online resource: Xylophone Fun eBook which comes in Volumes 1, 2 and Christmas. (Stay tuned for Volume 3.) This is a resource I created to offer a basis for  introducing music reading in preparation for beginning piano. Children are able to first match color and then the letters from the visual to the xylophone or bells. Doing these simple songs offers exercise in letter recognition, matching, basic reading skills, fine motor skills, and basic music reading skills. Parents, teachers, and therapists can use this resource with their children ages 3 and up. It is a fun and motivating way to target multiple skills and kids will feel success as they play simple well know songs!
In an effort to encourage my students, who use this resource weekly, to sing along while playing I am going back and adding the lyrics in to each song. Having the child sing while playing takes the skill level a step further. To sing and play at the same time is really working the brain! Plus, many students need to work on their speech and singing is a great way to do that. Also, we are encouraging reading skills even more.
The first eBook I have added lyrics to is Xylphone Fun: Christmas! I wanted to get this out to you all before December so that you can have it in time for the holidays! The eBook includes each song with lyrics and without lyrics, in case your child would benefit from having a more simplified page with less to look at.
To learn more about Xylophone Fun or to purchase your eBook, click here: https://rhythmsforliving.com/ebooks/
More about Xylophone Fun: Christmas:
A holiday collection of Christmas songs to be played on Basic Beat Resonator Bells or Desk Bells
Bohemian Bell Carol
Jolly Old Saint Nicholas
Jingle Bells
Angels We Have Heard On High
Up On The Housetop
The First Noel
Over the River and Through the Woods
Included in your eBook (PDF file) is a xylophone layout, xylophone visuals, seven simple songs, as well as hints on how to use the resource.
If you purchased the Christmas volume last year and would like the updated version for free, please contact us.
Save