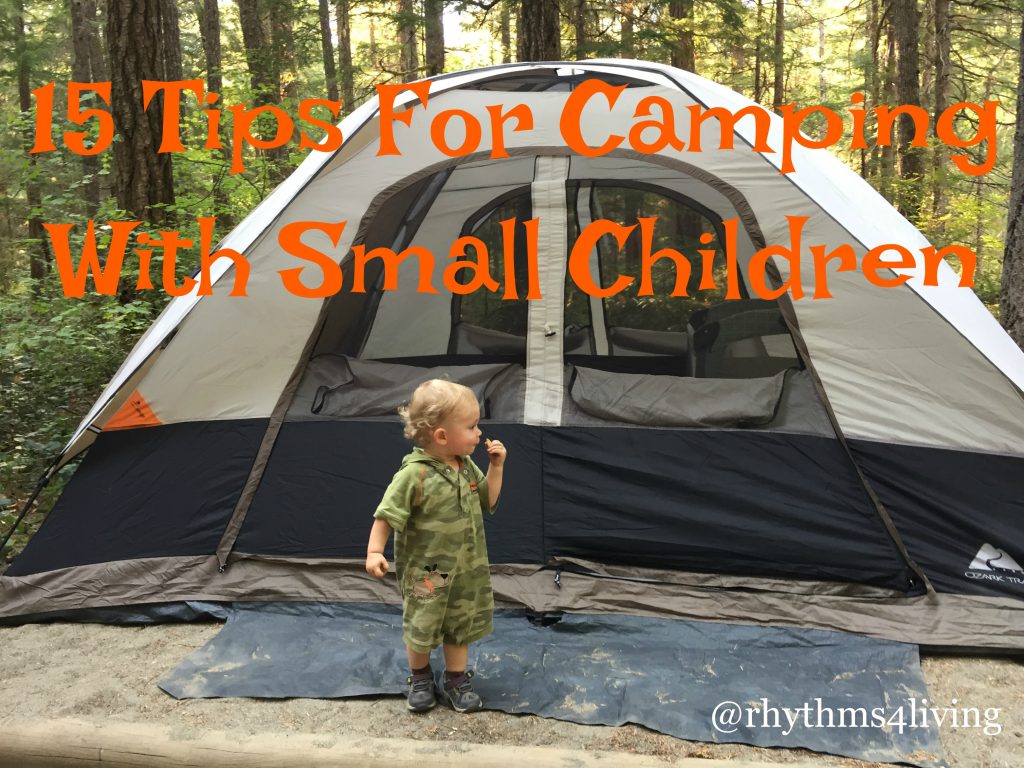 My husband and I have been married for five years and we have two small children, ages 16 months and 3 1/2 years. We both grew up camping with our families and knew that we would want to start camping as a family as soon as we were ready. While we both grew up camping in pop-up campers and may end up investing in one in the future, for now we set out to try tent camping. We had been given a two room tent, a camp stove, and a blue camping pot from family so we knew we had the basics ready. Instead of buying sleeping bags we asked around to friends to borrow while we gave this camping thing a try. Our youngest son was going to be in the pack 'n play so we just needed warm pjs and a sleep sack for him. We bought a few tarps, some rope, good quality lanterns and flashlights, and a good insect repellent. We also asked friends for advice on camping with children to see what worked for them and what things to consider and prepare for.
1. Bug repellent: I knew I didn't want a bug spray with Deet in it, but I also wasn't sure if my essential oil concoctions would cut it. My son is very sensitive to bug bites and so I needed something effective but not toxic. I found this Picaridin spray on Amazon and was surprised at how well it worked! My husband even mentioned several times how great it was. I had no problem spraying it on my kids or myself.
I found these bug repellent bracelets on Amazon as well and am surprised at how effective they seem to be as well. They smell so good and come in nice colors. You don't know what color you are getting until you open the package but the package comes with 7 individually wrapped bracelets that can be reused until they no longer smell. Be careful to not get them soaking wet as that will also make them no longer effective. I put a bracelet on my 3 year old's wrist and my 1 year old's ankle. We've used them this summer on hikes, parks, concerts, and now camping. (You can see the bracelets in the art project photo in this post.)
2. Tarps: We bought three heavy duty brown tarps and some strong camo-colored rope. I wanted the natural colors to keep our environment natural. We put a tarp under the tent, one over the tent, and one over our picnic table. The tarp over the table was to help protect from possible rain, but also provided some shade as it was in the low 90s where we were. The table tarp provided shade during the very hot day and protection from rain which we fortunately did not have. I would like to invest in a screened in tent for around the table for the future. We had issues with bees and my son ended up getting stung during a meal. But for a quick camping trip the tarp worked just fine.
3. Bedding: We brought our extra crib mattress (which is just covered foam and not very huge) for our 3 year old to sleep on. He had his sleeping bag (similar to this) on the mattress and was snug as a bug. We opted to not use an air mattress but just threw down yoga mats and a few extra blankets and mattress topper I had thrown in. We put our sleeping bag on top of that. I think in the future we will invest in self-inflating pads or perhaps try an air mattress. Again it was fine for two nights. Now that we know we definitely want to camp more in the future we will probably be investing in LL Bean sleeping bags in a lovely flannel. Can't wait!
I put our 1 year old in a set of thin footed pjs, topped with fleece footed pjs, topped with a fleece sleep sack. It got down to 57 at night and felt quite chilly. I wanted him to be bundled since he wasn't in bedding. I tried putting a hat on him but it kept falling off when he slept. What I did do that I found very effective was hang a blanket over the one long side of the pack 'n play that was closest to the wall of the tent. This wall in our tent was screened with the fly on the outside which let air come in pretty well. The cold air coming in was blocked by the blanket and keep our kiddo a lot warmer than not having it there. I know because the second night I forgot to put the blanket up and he woke up cold. I put the blanket up and he was fine for the rest of the night. Also handy, the little nightlight/music box that clips onto the pack 'n play. This provided the nature sounds or music for aiding in falling to sleep as well as a quick little light for nighttime wakings.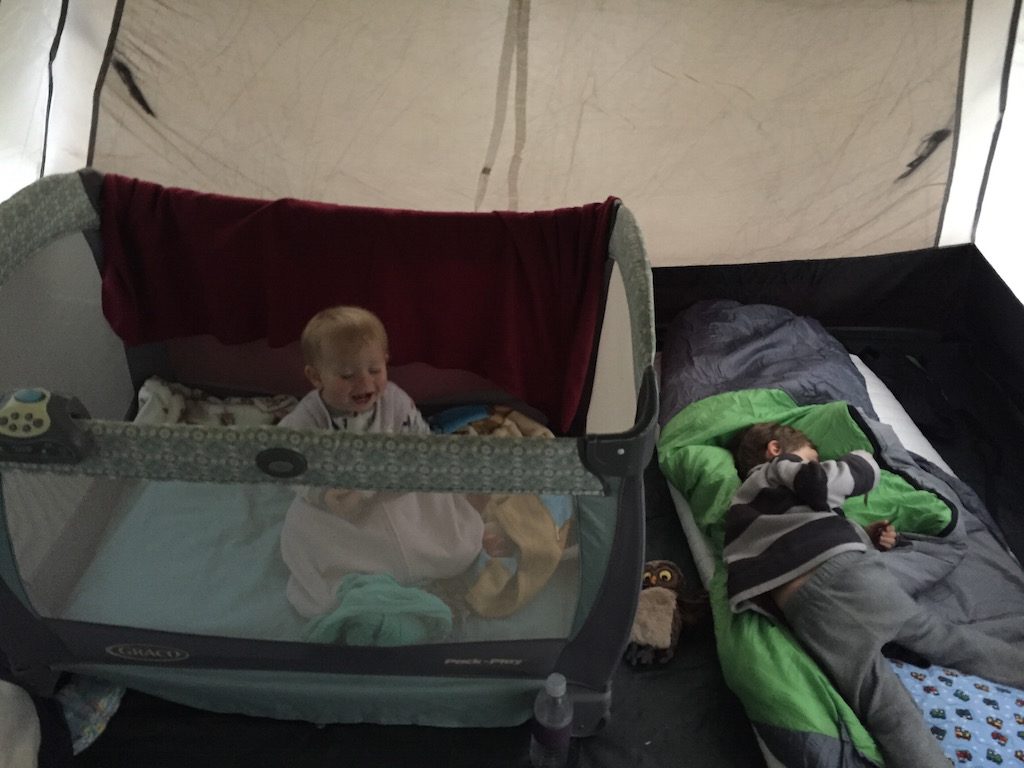 4. Child's Potty: We threw in our potty training potty (from Ikea) as an option for potty at our campsite which worked out well since the bathroom was quite a walk from our site. It was especially helpful in the night because it gave us a potty option in the tent. I highly recommend it.
5. Booster Seat: We opted to bring our booster seat which at home we just attach to a dining chair. My experience this summer at picnic tables is that my son can reach the table but does better if he is strapped in and has a tray to eat off of. I was able to secure it sideways on the picnic bench.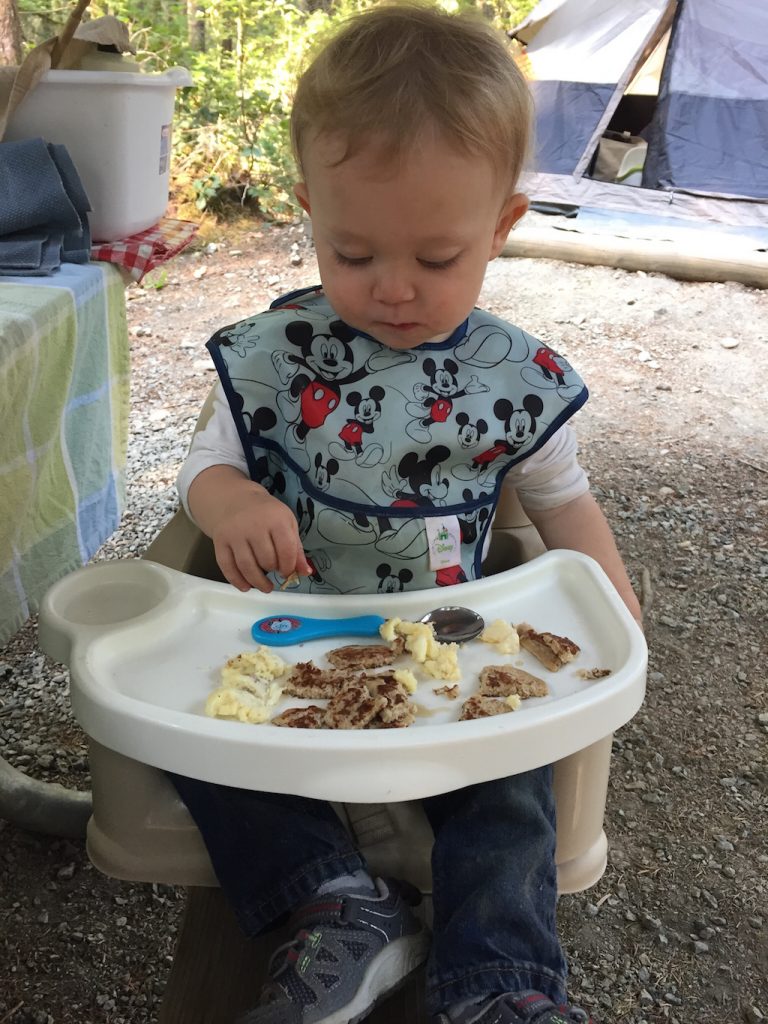 6. Kids Chairs: This is probably something you have already thought to pack but I wanted to mention it just in case. The kids LOVE having their own kid size chairs to sit in around the fire or when having a quick snack. We get good use out of these all summer here between concerts in the park, parades, beach and camping trips.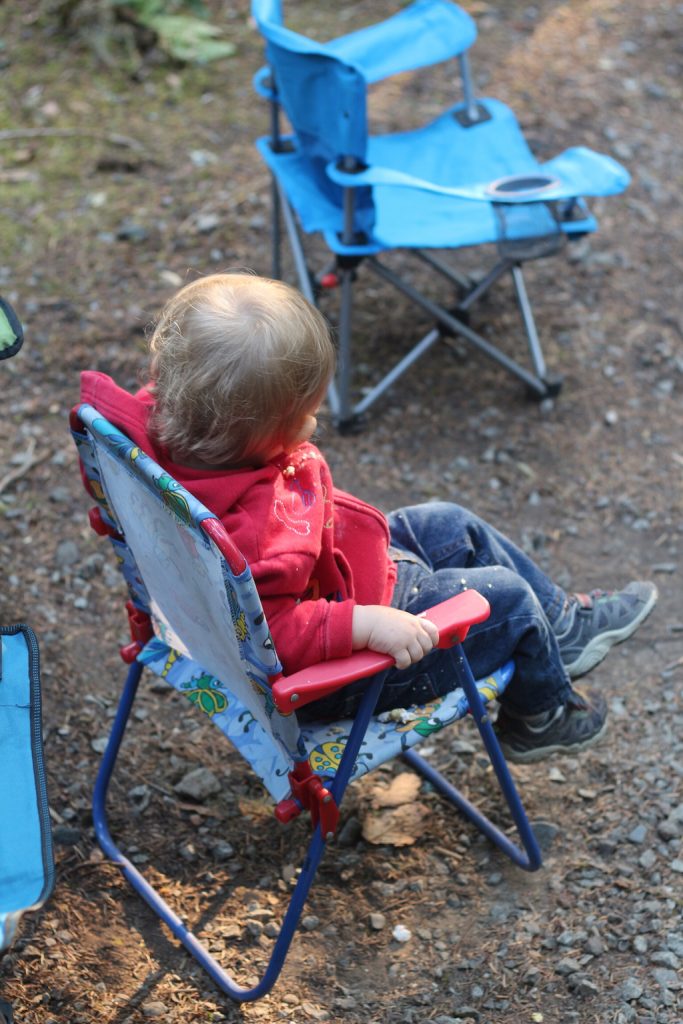 7. Pack lightly: I tried, tried, tried to only take the bare necessities. But I still ended up taking too much. I try to plan for everything and with little kids that means lots of extra clothes, toys, snacks, etc. I had too many clothes and too many snacks. I took books for reading and coloring which was a joke because really there was no down time for mom. I did get to read after everyone went to bed one evening by the fire with my headlamp, and some in the car.
As far as clothing, you don't really need too much. You aren't showering, you are getting dirty, and no one cares if you have make-up on or not. No toiletries, no make-up, not many "outfits". Just a pair of jeans and a pair of shorts, something to sleep in,  t-shirts, long sleeve shirt, and hoodie or sweater. I did pack bathing suits just in case which we didn't need. I threw in yoga pants and didn't need those either. I had to many extra outfits for the kids. I am glad that I packed extra blankets though!
We packed most things in plastic bins which were handy for keeping things in order and made it easy to throw everything in the car at night (to keep the bears away!).
(Explanation: this was a two night/three day trip for us in a National Park so there wasn't hot water, showers, or electric.)
8. Food: We brought lots of snacks (rice rollers, dried fruit, fig bars, cheddar popcorn, teddy grahams, Smash pouches, fruit) and planned on two dinners and two breakfasts. I prepared scrambled eggs at home and poured them in a plastic bottle (ew plastic – I know) which I could throw away (or recycle) at the end of the trip. I put some Kodiak cake mix in a bag, enough for two meals. Then for breakfast we just poured the eggs into a pan and seasoned, and added some water to the pancake mix for pancakes. We had a small egg frying pan and a little larger frying pan for the pancakes. I used the small pan to grill up our chicken sausages for dinner (the boys call them hot dogs) and poured a can of baked beans from Trader Joe's into the blue camp pot. I was amazed at how quickly everything cooked on the camp stove. (Honestly I may get rid of my stove at home and just use a camp stove instead!) I also used the blue pot to heat water for coffee, tea, soup, and washing dishes in the dish pan. I got a box of instant coffee with all the fixin's at Trader Joe's and it was great! No extra stuff required. I also grabbed a box of soup that I could just heat up as well as a few individual soup containers that you jut add water too. They also have the individual oatmeal containers that you add water too that would make a no cook, no clean breakfast.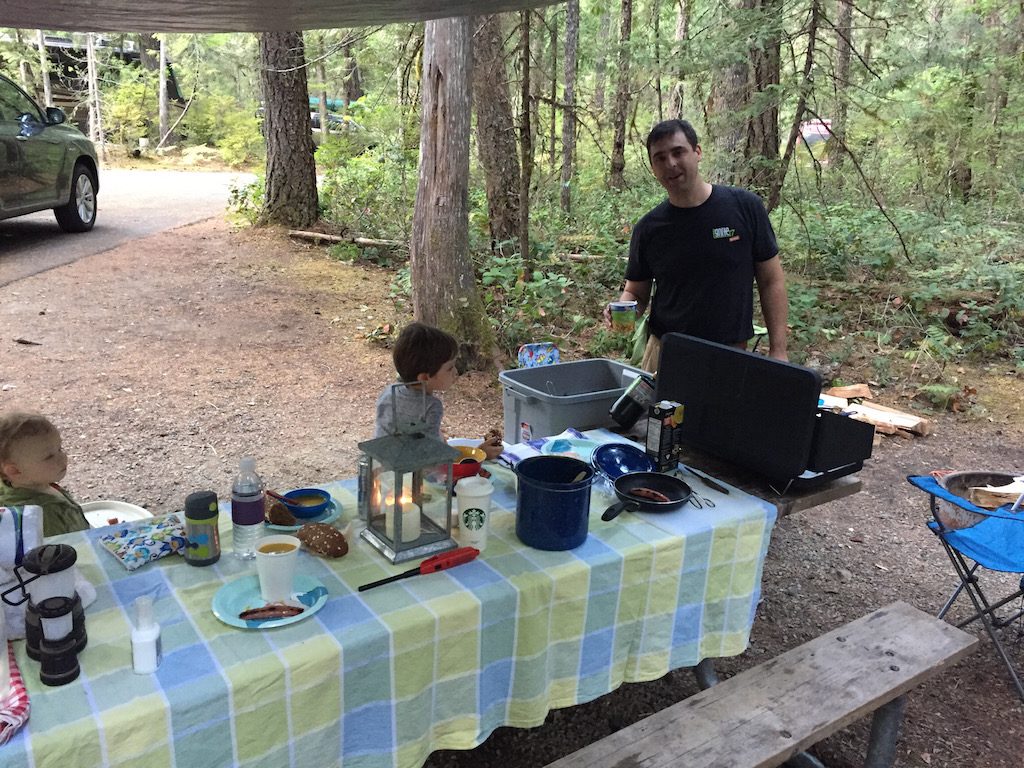 9. Collapsible Water Container: My husband was hesitant about purchasing this container but I remembered always having one growing up. You fill it with water and put it on the end of the picnic table to create a little washing area. It has a little spigot for pouring water or washing hands. With a bar of soap in a plastic container and a small towel, we had our own little wash station. (This was one of the highlights for my son!)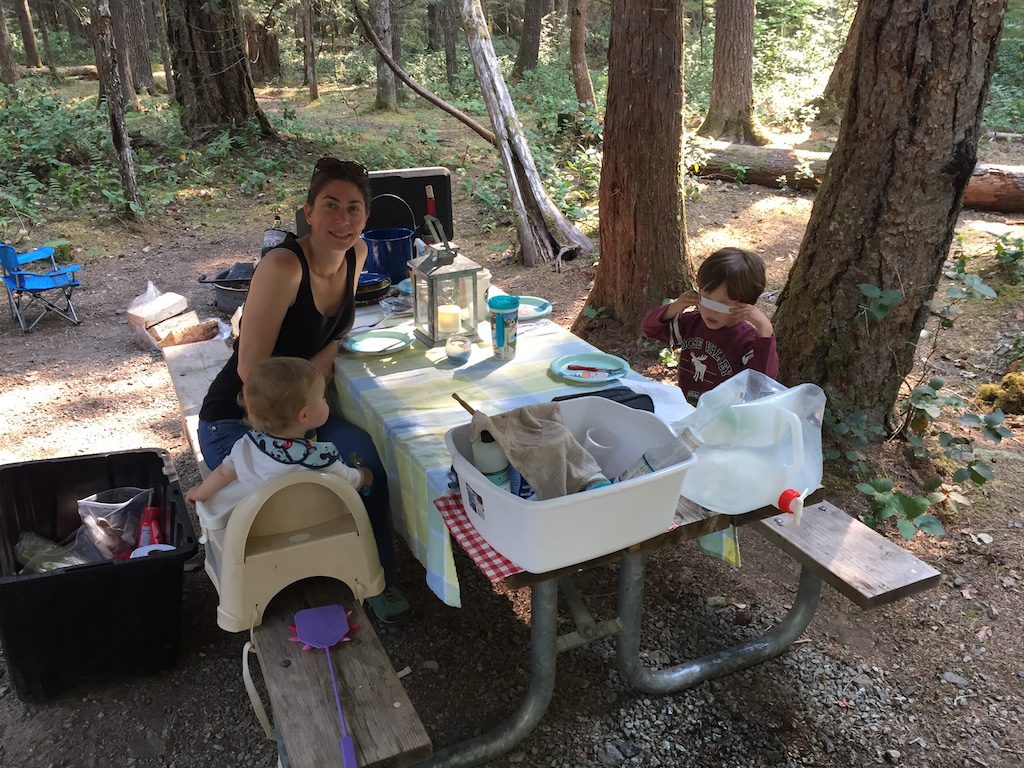 10. Art Project: My 3 year old and I packed an art project to work on when the other one was napping. We each made a wind chime that we then hung up on our tarp ropes. It was an enjoyable bonding activity that we did together at the picnic table and added some fun decor to our site. (Not that nature needs decor but it did make it feel homey.)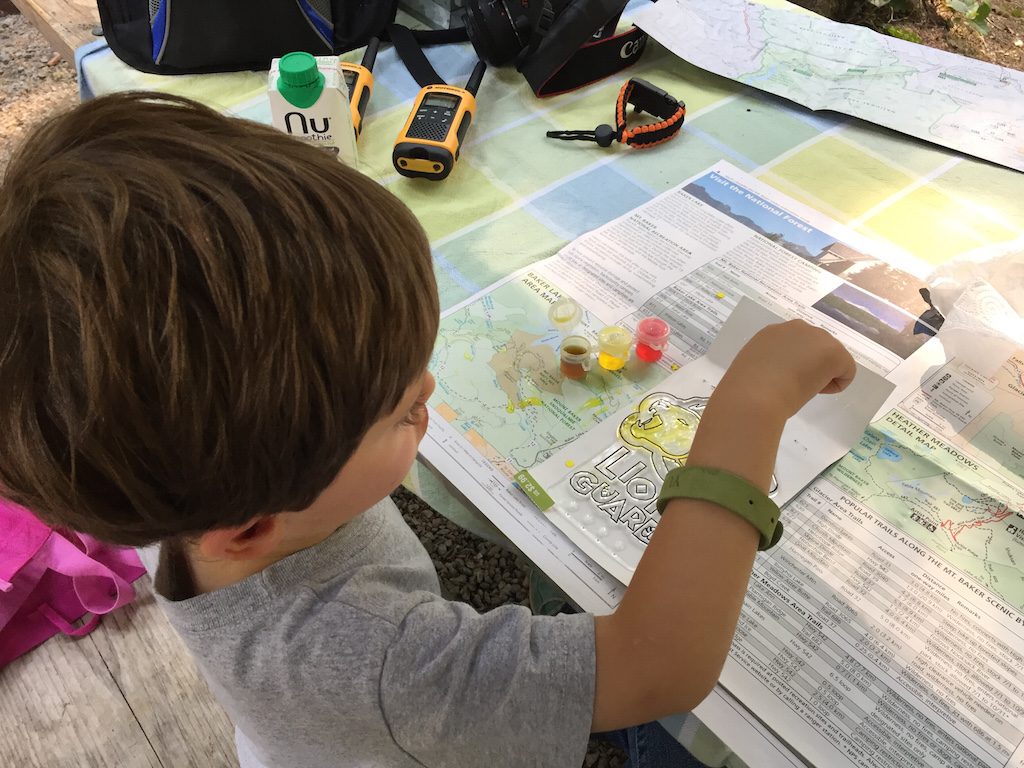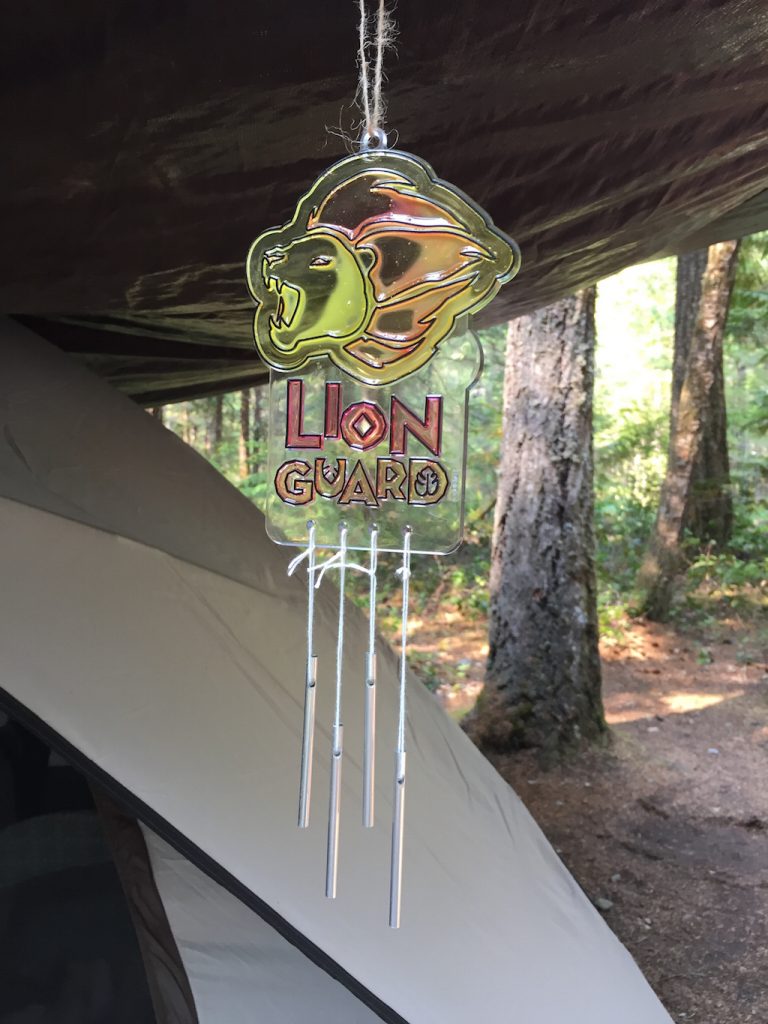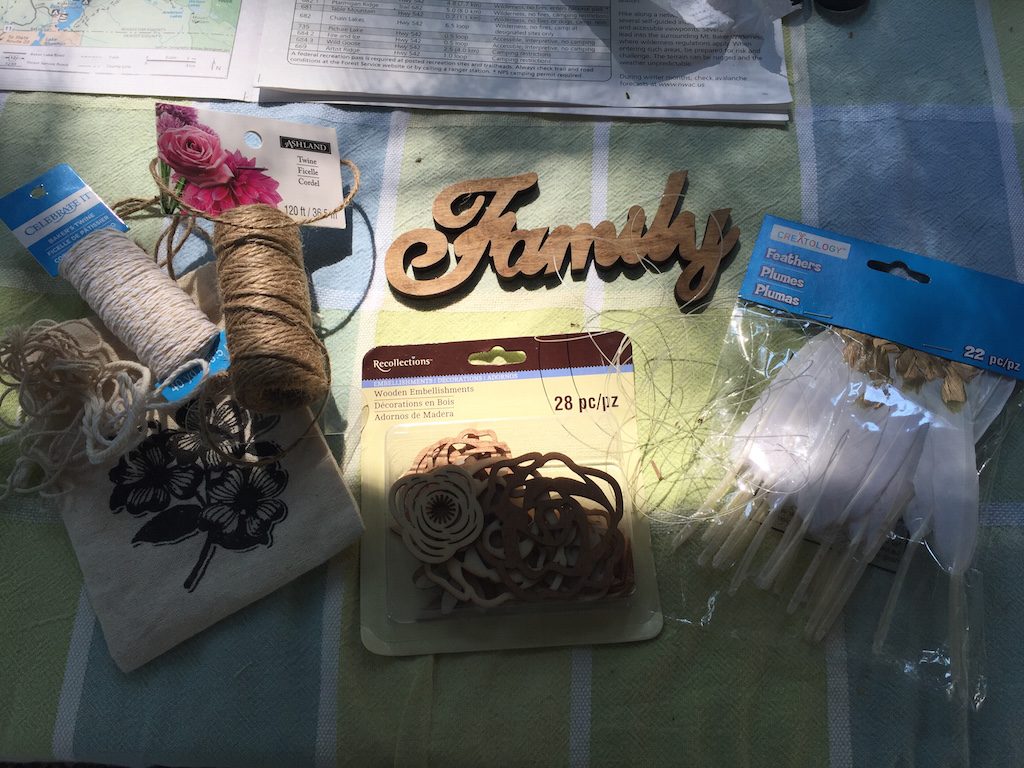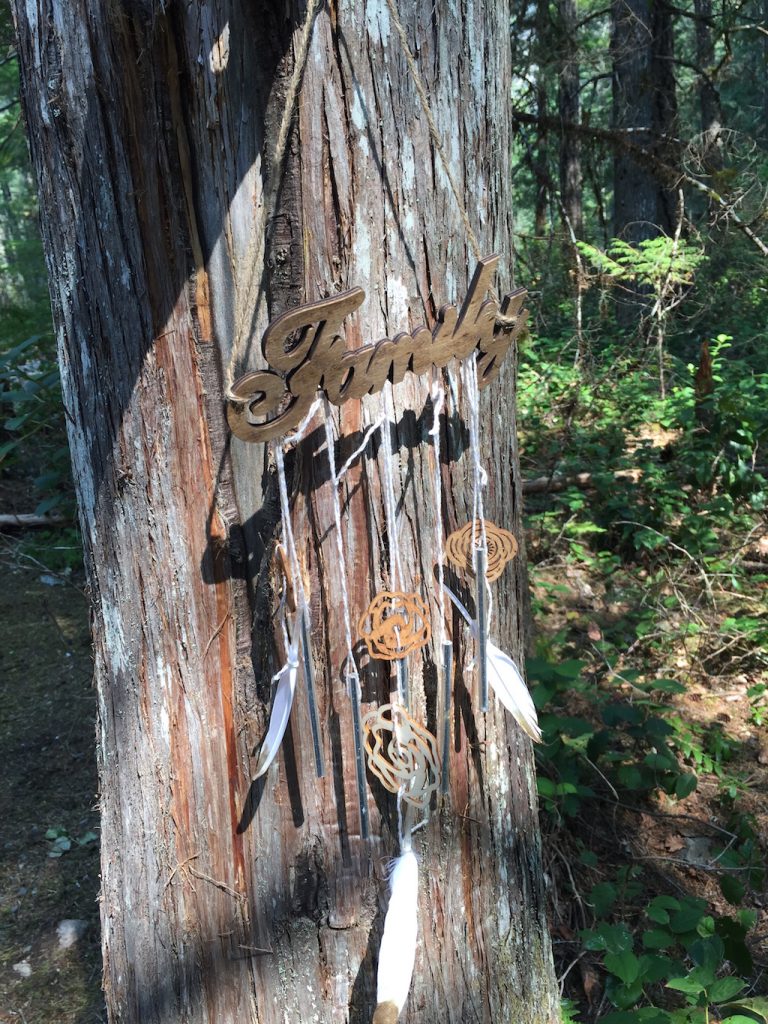 11. Lights: We bought a few good quality lanterns and flashlights (each kid had their own) as well as two head lamps. I was hesitant to use the headlamps, because lets face it, they are not very feminine or attractive. But I will tell you they are so useful! When sorting through bags and bins in the dark they are a necessity. I also bought battery operated string lights to hand just for fun which added a little fun. There's nothing like twinkle lights when you are outdoors. Don't laugh, but I also brought a metal and glass lantern with a good old fashioned candle in it, as well as a citronella candle to help with the bugs. I know this is not minimalist packing by any means but I NEED the little creative touches that make it feel homey and romantic. I loved having my candles and lantern and was glad I brought them. If we do a one night camping trip somewhere I won't bring the lantern but it was nice for this trip.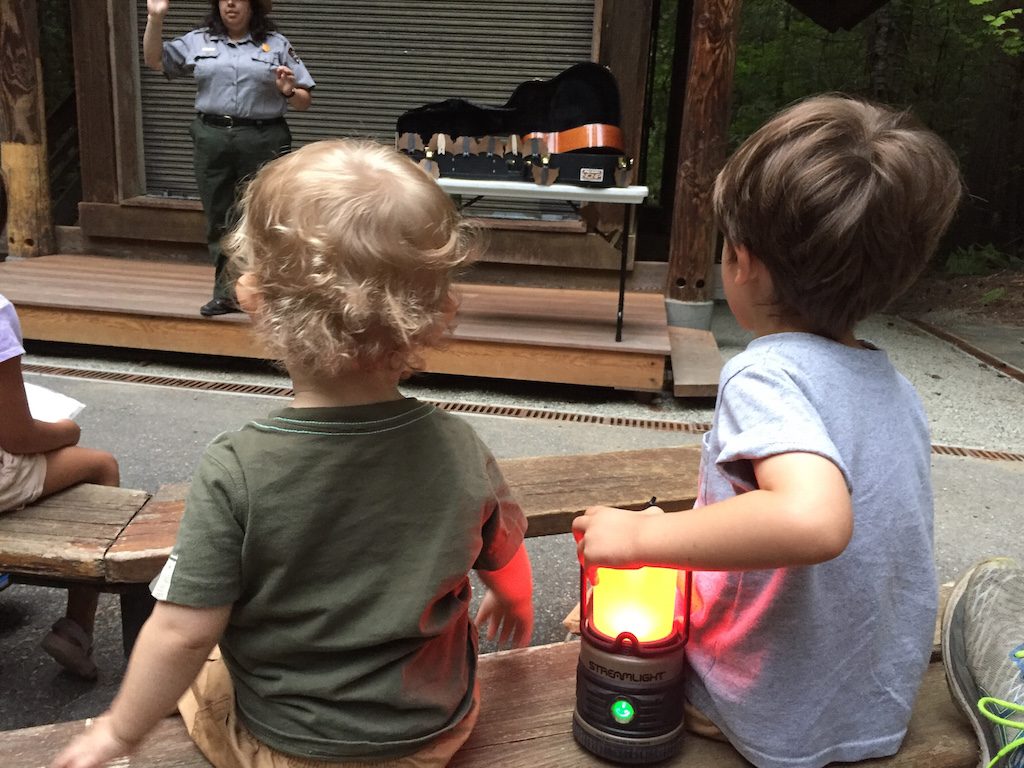 12. Toy and Games: Really the only toys the boys played with were their buckets and shovels. They loved just sitting in the dirt and sand and digging. We also had one small jeep that they use in the sand. We brought Dominoes, Phase 10, and Farkle but only played Dominoes. There was not a lot of extra time that my husband and I had together that we could play but I'm sure when the boys are older there will be more time for games.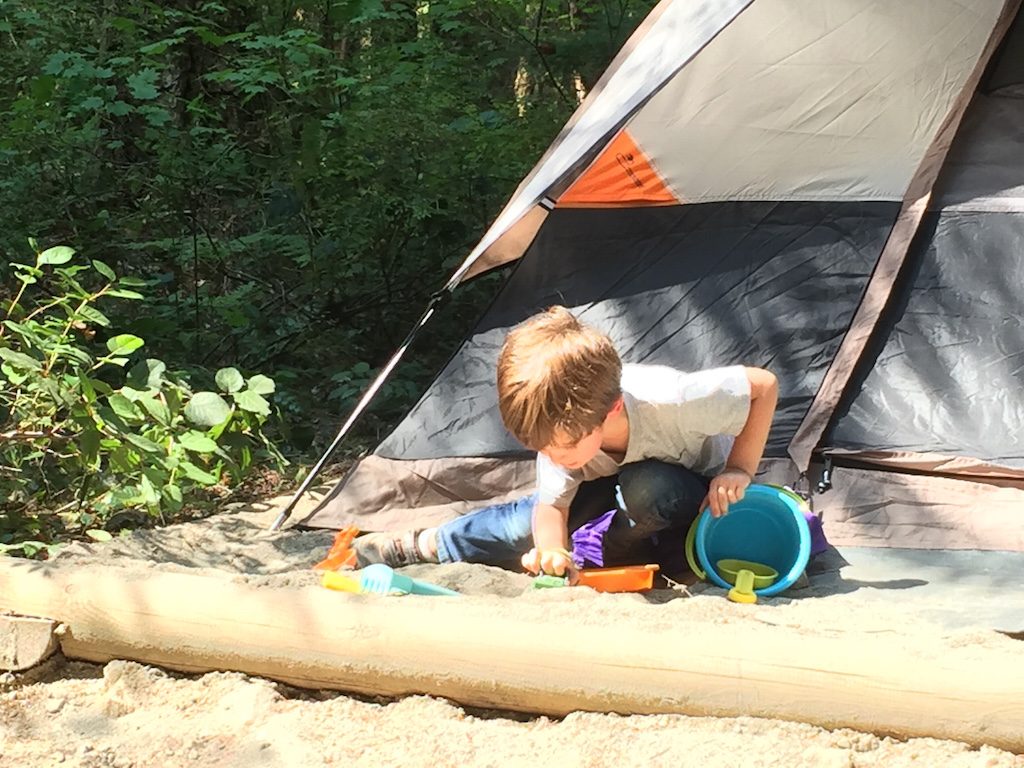 13. Naps: Yes, my 1 year old still took at least one nap. The tent was warm but the tarp helped provide shade and we opened the screens for air. I put him in just a onesie and he slept fine. My husband also napped as we did not sleep very well the first night. (The second night was much better.) My 3 year old did art with me instead, but ended up dozing in the car on the way back from our afternoon excursion. Flexibility and adaptability are key!
14. Hikes: Don't plan on taking elaborate hikes. Keep it simple and short. We have a carrier for our 1 year old which makes it doable. (When he gets down and walks the trail he is very distracted and we end up moving slower than snails.) We found a few easy hikes and did one in the morning and one in the afternoon. We also just stopped at a few overlooks and spent some time exploring and taking in the views. My son is seen here with his hydration backpack on. He loves to wear it and it helps him stay hydrated. (Thank goodness boys can pee in the bushes!)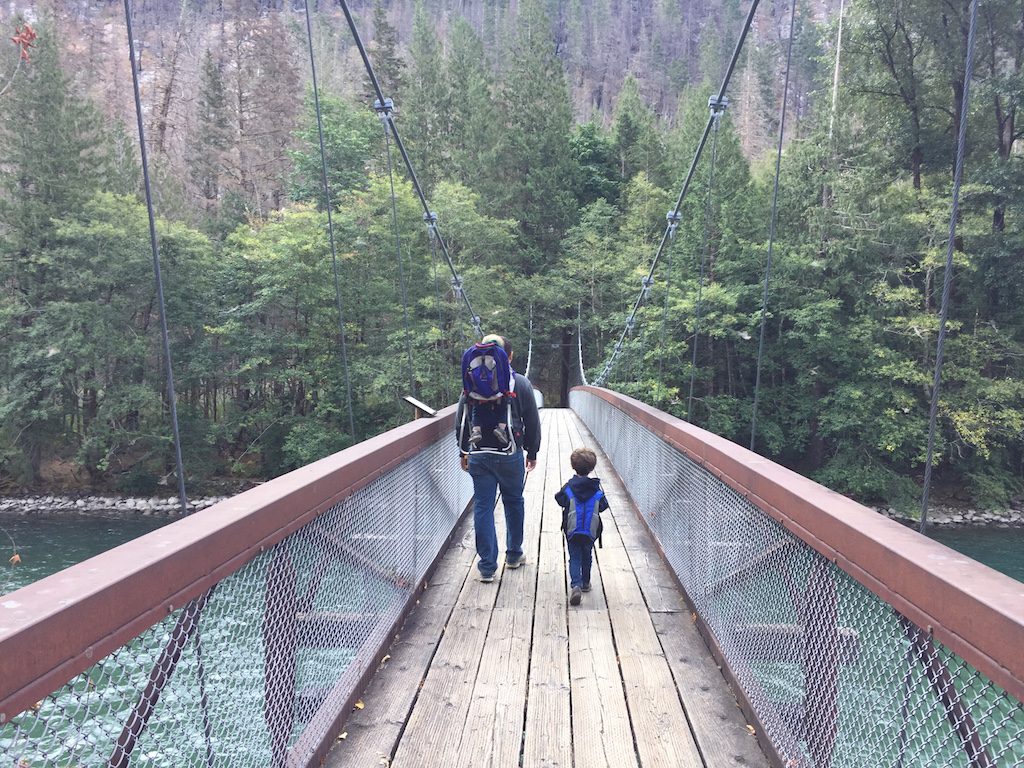 15. Cameras: I'm glad I had my digital camera with us because I knew I wanted t o photograph a lot! But honestly you don't need it if you have an iPhone or similar device which takes decent pictures. We also took the go-pro but didn't end up using it this trip. Our hikes were very low-key.
If you are interested in seeing some of our photos from our trip visit our gallery.
We would love to hear your tips and advice for camping with small children! Please share in the comments what you found helpful. Also, have a question about something I didn't mention? Ask away. I may or may not have the answer.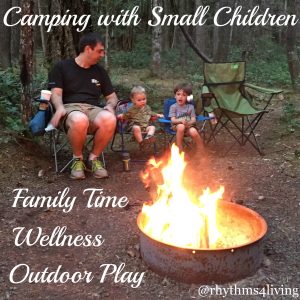 *Please note that this post contains links to Amazon Associates where I may receive a small fee if you were to click through and purchase the item on their site. 
*Disclaimer: "We are a participant in the Amazon Services LLC Associates Program, an affiliate advertising program designed to provide a means for us to earn fees by linking to Amazon.com and affiliated sites."
SaveSave
SaveSave
SaveSave
SaveSave
SaveSave
SaveSave
SaveSave
SaveSave
SaveSave