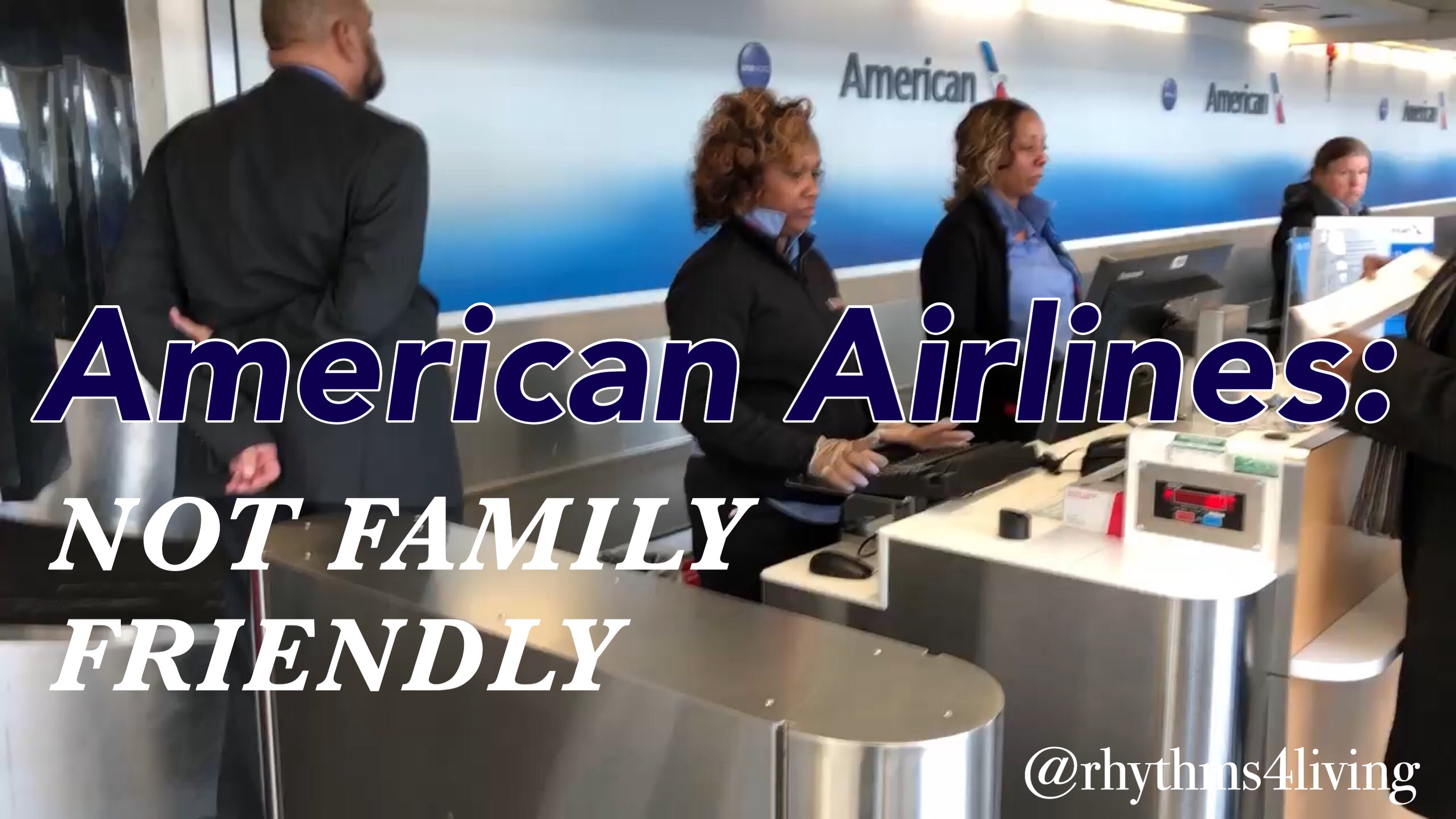 I recently experienced an incredibly difficult and frustrating situation while flying out of Philadelphia on an American Airline Flight. To say it was frustrating is rather an understatement. More specifically I felt abused and discriminated against.
My family of four, including 2 small children ages 4 and 1 1/2, was traveling coast to coast. We had purchased tickets through Alaska Airlines but this first leg of the trip was an American Airline flight. When we arrived at the airport we went to check in at Alaska but no-one was at the ticket counter. We called Alaska and they told us to check in at American. So we ventured back outside and down the sidewalk to the next terminal to find Amercian. Already we were off to a bad start.
I was not impressed with how the Philadelphia airport allowed cars to park in the drop off section. I am pretty sure that this law has been strictly enforced at most airports if not all. However, on this day I counted more than a dozen cars parked, with no people around, all along the curb in front of the terminals. We weren't even able to pull up to unload our luggage, kids, and carseats. We had to stop on the other side of the cars in the through lane.
Secondly the Philadelphia airport is not super customer friendly as far as providing conveniences for people who are waiting to check in. There are minimal seats in the ticketing area and NO restaurants or cafes or stores. Also, you need to walk outside to get from one terminal to the next.
When we arrived at American Airlines ticketing my husband waited in line and I stood off to the side close to the counter as we waited for the people in front of us to finish. My husband approached and the female attendant very shortly and impolitely greeted him. He told her we wanted to check two suitcases and a carseat. She then asked about our stroller which has an infant carseat attached (Standard Graco carseat and stroller). Now, I had it piled high with all of our coats, mini backpacks, and diaper bags, and my two boys stood next to me. I told her we would be checking it at the gate. She then said that we would need to weigh it and if it were over 20lbs we would have to check it there with her. Puzzled, I asked her how I was supposed to travel through the airport with my 1 year old and all of our stuff without a stroller. Another woman attendant who was leaning off to the side said, "You'll have to carry your infant in your arms".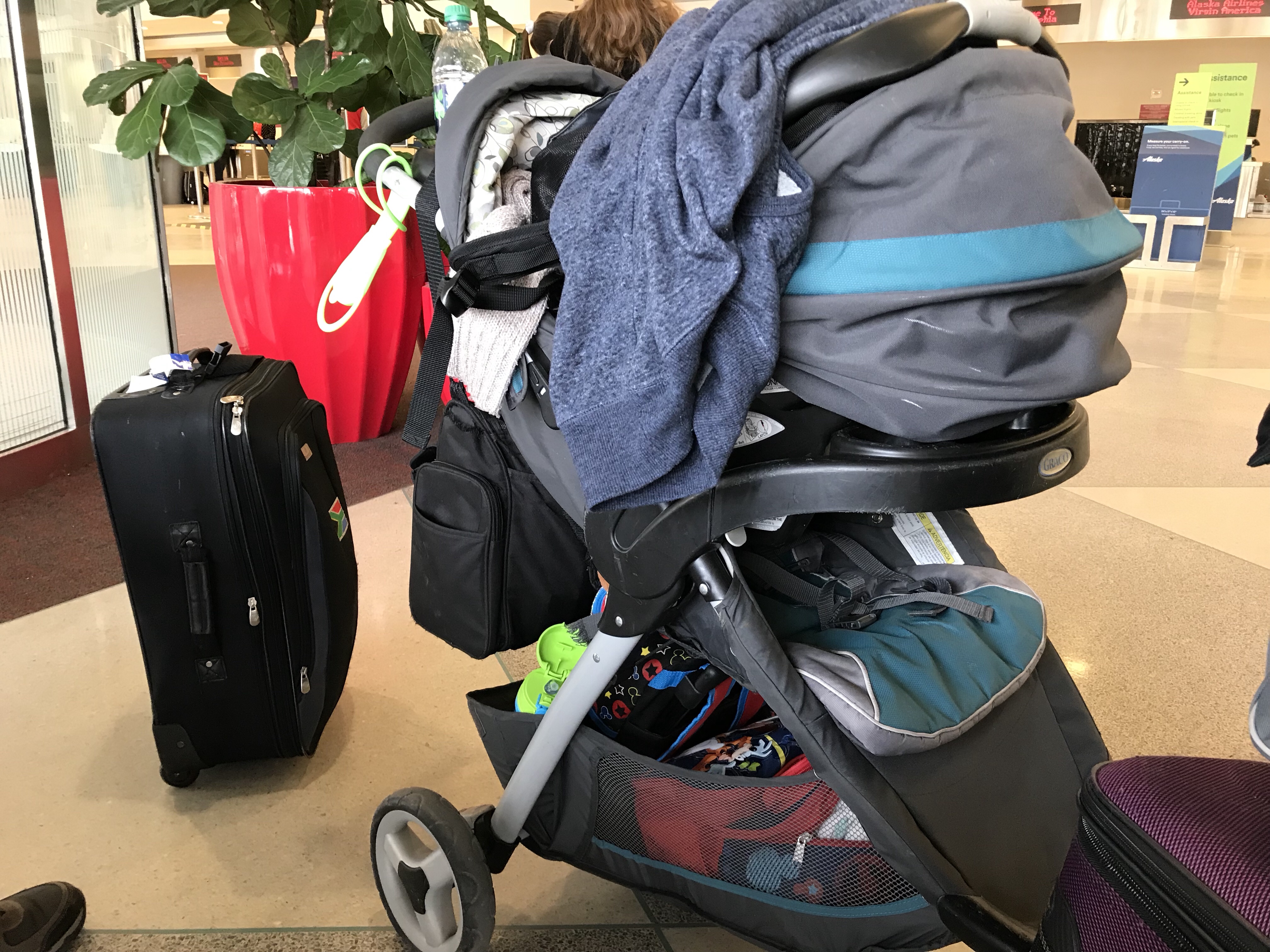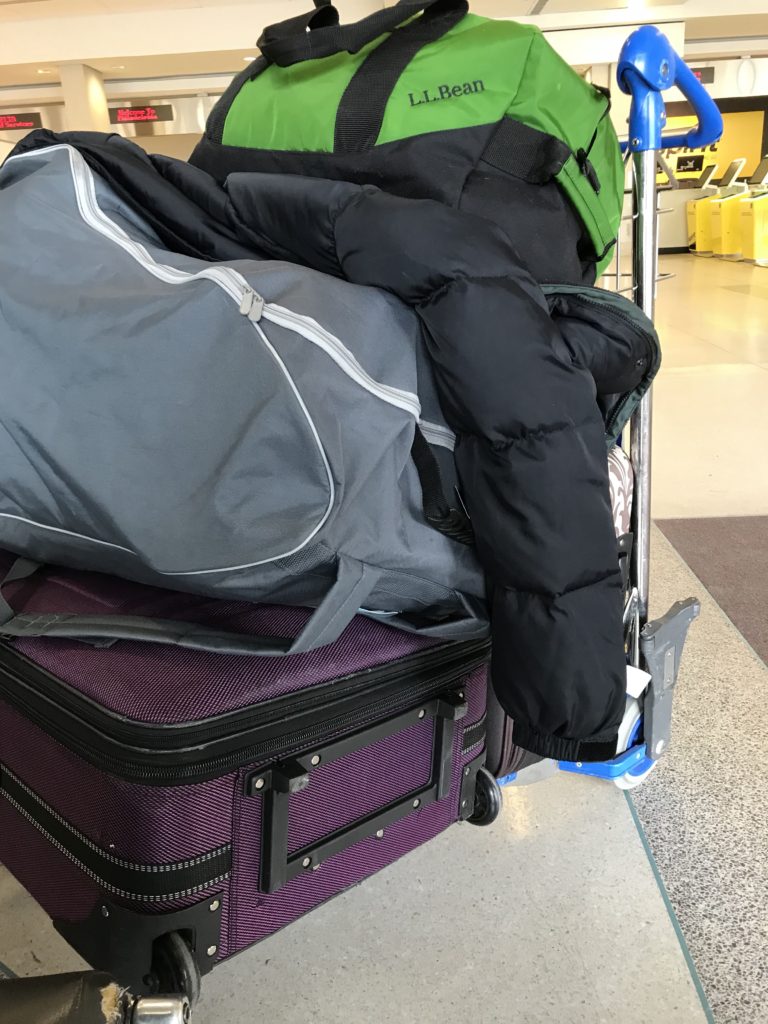 Now I have traveled with this same stroller for four years and have NEVER been asked to weigh it or check it early. I have ALWAYS gate-checked it. Even on American Airlines (just the week before as a matter of fact) and even at the Philadelphia airport. The woman leaning to the side, who I found out was a supervisor, grabbed a sign with a print out of their "policy" and showed me this rule. I was appalled but proceeded to unload my stroller and put it on the scale. It read 27.5lbs. My husband and I were both feeling pretty stressed by this point and continued to try to talk with them. I finally said to take it down and continue checking the other luggage. My husband and I immediately noticed that the scale said 4.5 lbs with nothing on it. He said their scale was off and asked them to reset it. I said, lets try the next scale. Now the stroller registered 20.5lbs on the other scale. I said, its 0.5lbs off. I asked, "Can you not make an exception, work with us?" They rudely said no and stuck to their policy. (And who knows if this scale was even accurate as well.)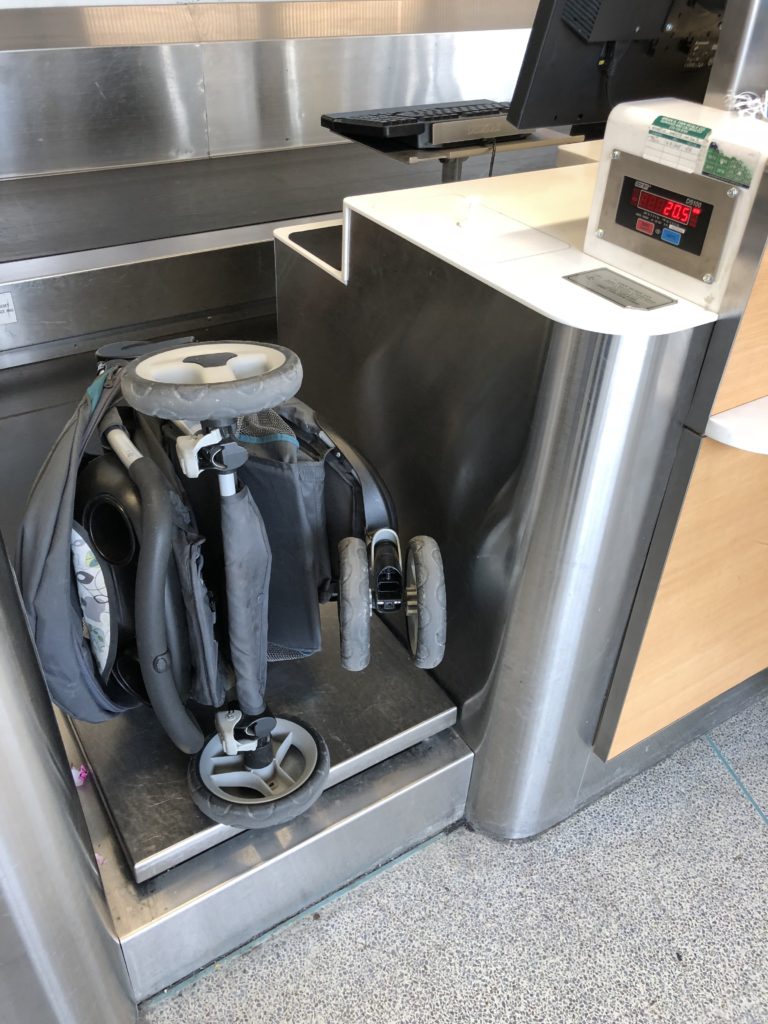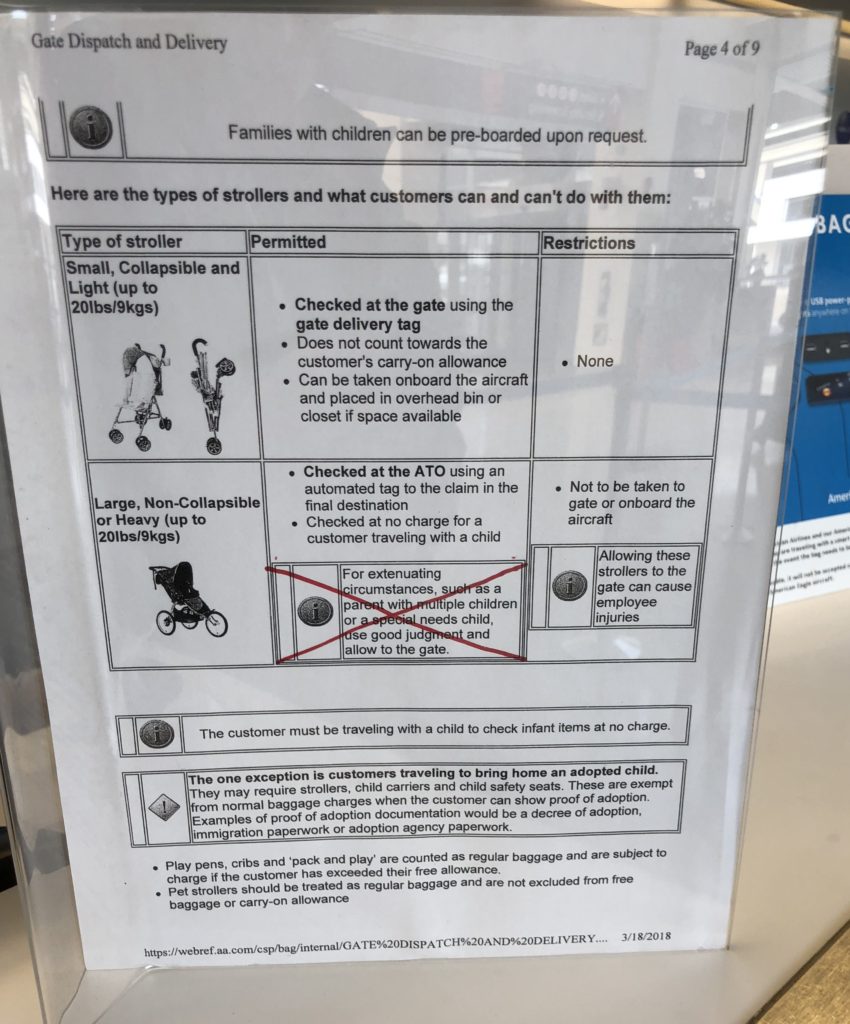 Now as a mother who has traveled many times with small children I can tell you that it is not easy. Its actually very stressful. You never have enough hands to carry everything, you have to watch your kids like a hawk, and you have the constant knowledge that you are probably bothering others or holding them up as you conduct your three-ring-circus!
And now here we are with American Airlines attendants telling us that our 20.5 lb stroller (which I daily carry and lift) is too heavy to gate check.
I told my husband to take a picture of the scale showing 20.5lbs for future reference. He then suggests recording the conversation we are having with the American Airline attendants and begins recording. One of the attendants tells him to not record him and threatens to cancel our tickets. My husband immediately turns his phone off. However, the other attendant very rudely announced that she had already canceled our tickets.
THEY CANCELED OUR TICKETS!!!! Just like that.
American Airlines Flight from Kristen Crouch on Vimeo.
"Sir, you do not put me on video…if you put me on video you are not going to fly." American Airlines Supervisor at Philadelphia Airport.
You can see my husband turned it off immediately. However, the other attendant had already canceled our tickets.
Fuming….fuming…fuming…
In disbelief I called Alaska Airlines and explained the situation. They APOLOGIZED for the situation, told us they couldn't override American's policy, but that they would see what they could do to get us out of the situation and get us home to Seattle. Alaska Airlines went ABOVE and BEYOND to fix the situation, at their expense. They were able to put us on a direct flight that evening. All we had to do was sit and wait until Alaska check-in opened, in about 2 hours. Instead of being discouraged I thought, let's make this adventure! We'll go get some breakfast, sit and chat and play, maybe explore a little.
Well, not so fast. Back to the issue of Philadelphia airport not having anything for people prior to going through security. Not even a coffee cart! Well, I was informed that there was a hot dog stand in baggage claim. Uh, no thank you.
So we bunkered down in the ticketing area on a few chairs and went through pretty much all of our snacks. Hungry kids at nap time…not fun. But we pushed on. When Alaska Airlines ticket counter opened we were first in line. They were super helpful and super polite. We were checked in and ready to roll, with stroller in hand, through the maze and ordeal of security and on to Dunkin Donuts. Yay!!!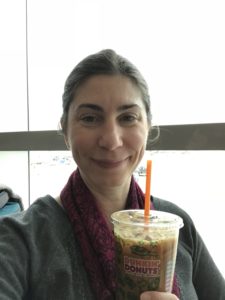 So the moral of the story…I will be avoiding American Airlines at all costs. They are not Family or Child Friendly and their attendants, at least those in Philadelphia, are extremely rude and horrible to work with. So if you are a parent planning on traveling with an infant or small child on Amercian Airlines, make sure to have nothing bigger than an umbrella stroller and a couple of extra hands. If you are planning on putting your infant in a carseat on the plane like we do you'll need to grow a few more arms for that as well. Oh, and don't forget the baby!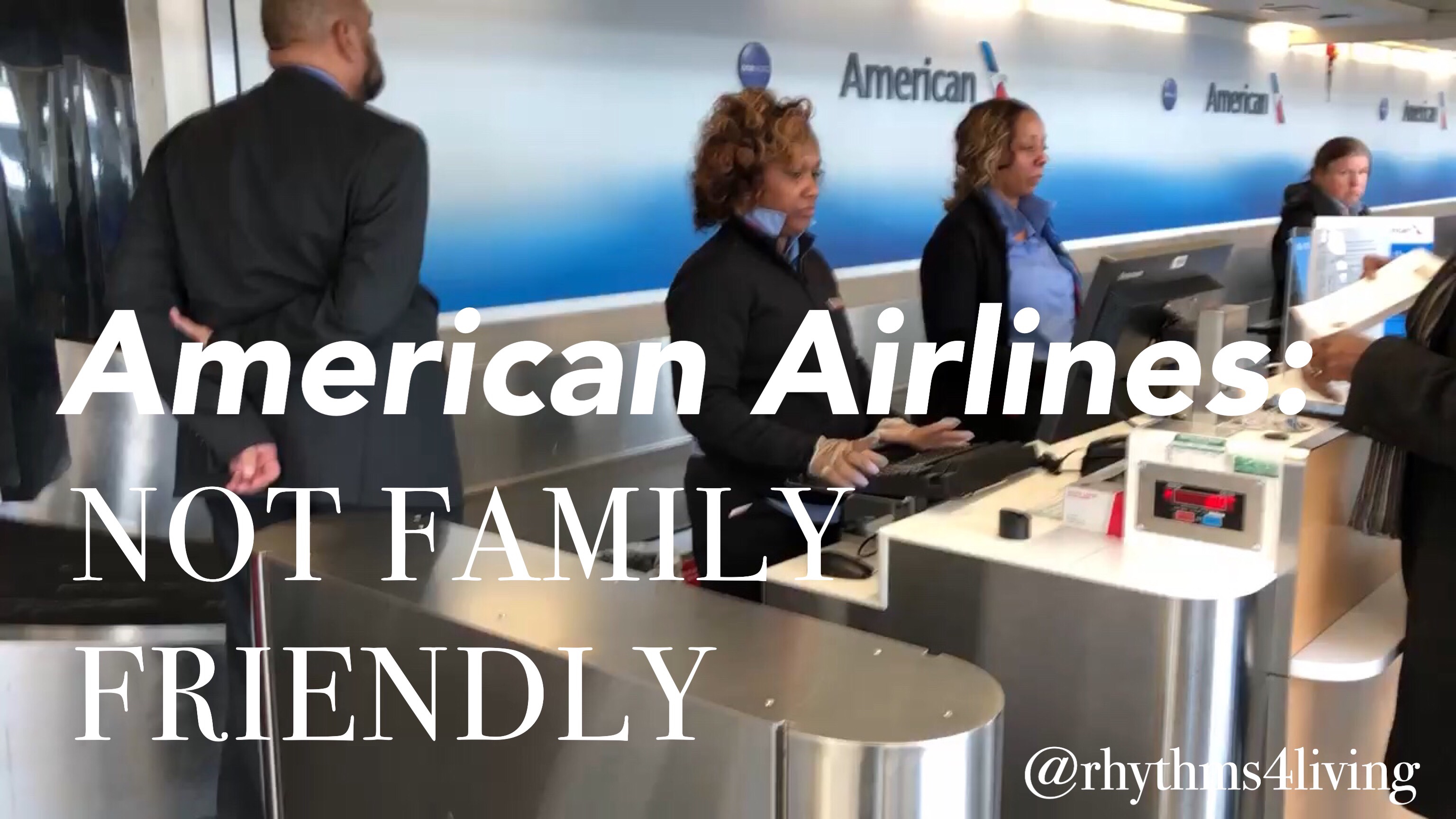 SaveSave
SaveSave