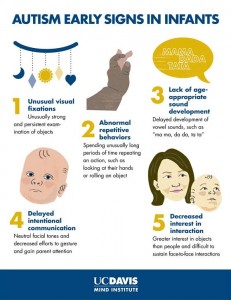 The media has been overwhelmed with news of a recent study by UC Davis MIND Institute showing that Early Intervention may be effective in treating infants displaying early signs of autism. Last week the Today Show mentioned this study that showed the effectiveness of early intervention with babies as young as 6 months who were displaying common symptoms of autism such as extended staring at objects and repetitive behaviors, as well as limited babbling, smiling, and interacting with others. NBCNews released this article that discusses this study where parents were taught how to play with their babies and watch their cues. CNN posted this article suggesting that "parents can be trained to interact with their at-risk infants using many of the same principles that are used for toddlers and preschoolers with Autism Spectrum Disorder". The Huffington post released this article which discusses the same study that "has found that parents can help significantly reduce symptoms of autism in babies…by changing how they play and interact with them".
While the study is indeed small, it reiterates what we already know, that early intervention is crucial. The sooner you begin addressing developmental delays the better the chance of overcoming them. Music therapy groups offer effective interventions not only for typical development but for also for children who are at-risk for developmental delays.
The key to this study is early intervention or treatment. If parents know what to look for and get help right away, there is a better chance of interventions being effective.  In this study, several of the subjects had older siblings with autism so the parents knew what to look for. Often though parents don't know what to look for.
Board certified music therapists are trained to look for signs of developmental delays including signs of autism. Parents who enroll their baby in music therapy groups will not only be gaining a music class that is encouraging growth and development, but they will also be working with a qualified professional who is trained to watch for and address developmental delays.
During a music therapy group for infants and toddlers, the music therapist is teaching the parent how to interact and engage their child. The parents are learning how to play through music. This is important not just for their parent-chid bond, but also for the child's development. Also, if the music therapist notices a "red flag" (sign of possible delay) he or she will be able to talk with the parent about whether this is a common occurrence for the child, and if so, ways to address it. The therapist will also be a resource for directing the parent to get other professional help from an early intervention provider or other professionals if it is suggested that the child be evaluated.
Encouraging your baby's growth and development by engaging and interacting with them through play is important for all children. Studies show that babies who are talked to often, read to, sung to, and played with have better language skills, self esteem, and inter-personal skills. If a parent were to notice developmental delays in their child and seek professional help in early intervention, the delays could be addressed early.
While autism is not typically diagnosed before age 1, and more commonly around ages 2-3, its important to be aware of what to look for. The image and pdf at the beginning of this post is an infographic produced by the UC Davis MIND Institute to educate parents on what to look for. If you notice these signs in your infant, its important not to worry but to seek evaluation. A simple evaluation from your state's Early Intervention provider can inform you whether there is something that needs to be addressed or if there is really nothing to be concerned about. From there you will better know how to proceed. Being educated and informed is empowering.
Autism in Infants PDF and image from: http://www.ucdmc.ucdavis.edu/publish/news/newsroom/9182