The Latest Edition of Xylophone Fun is Here!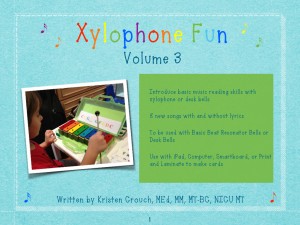 Volume 3 builds on what was learned in Volumes 1 and 2 with more songs, some slightly more difficult than the previous volumes. Each song is provided with and without lyrics. Providing the lyrics encourages the child to sing along while playing. Now the child is not only reading the music while using the hand-eye coordination to play the xylophone but he is now also singing along by reading the words to the songs (or at least from hearing you sing along with him). Talk about a brain workout! What a great way to multitask and learn new skills –  All while having fun!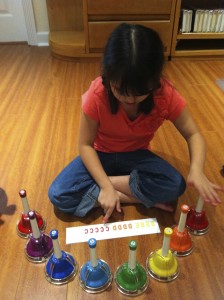 The songs included in Volume 3 are:
Love Somebody
Aura Lee
Ode to Joy (instrumental only)
Row, Row, Row Your Boat
In the Jungle
Old MacDonald
Alouette
Bonus Song:
As always Xylophone Fun offers visuals for assistance in learning the letters and colors, as well as how to set up the xylophone correctly. Also included are resources and helpful tips on how to use this great curriculum!
Available as a PDF, Xylophone Fun can easily be displayed on your iPad, tablet, computer, or Smartboard, or it can be printed and laminated.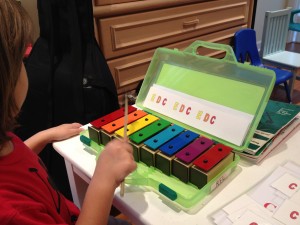 If you need to purchase a Xylophone or Desk Bell set to go with the Xylophone Fun curriculum click here. Remember, this curriculum only works with these specific instruments, and will not work with any old xylophone. It is specifically color coordinated to be used with these instruments. NOTE: For Xylophone Fun you need the Green Case Basic Beat 8-note Resonator Bells. The bars are red, orange, yellow, green, aqua, blue, purple, and red.
If you haven't heard of Xylophone Fun, you can read all about it here and see our other volumes. We offer Volumes 1 and 2 and a special Christmas edition. (Its not too early to start learning some Christmas songs to have ready to go for when family and friends come over!)
Visit our eBooks page for more info!
Save