FreeNotes
Guest Post by Mary Brieschke, MT-BC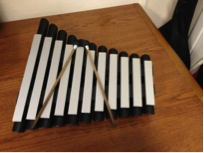 Freenotes Wing
In my music therapy classes, I was introduced to a new instrument that is now one of my favorites to use in music therapy sessions. FreeNotes are built by Richard Cooke, and designed so that people at all experience levels can play music. Cooke has done lot of traveling, and his idea for this instrument was influenced by the gamelan sounds of Java and Bali. The FreeNotes are a hybrid of xylophone and vibraphone, and have an amazing tone. For more information about the creator, visit his website here!
There are many different styles of FreeNotes, but the set I prefer to use is one of the smaller Wings that fit on your lap. You can choose from a variety of pentatonic scales. I love the pentatonic scales because any two notes will sound good together, and this means anyone can play high-quality music! The tone of the FreeNotes is so pure, and can be extremely relaxing. I have used this instrument with guided relaxation scripts many times, and once even helped a woman suffering from years of insomnia to sleep (and later found out she slept for a few straight hours, which was huge progress for her!). The music therapist can easily accompany clients or patients on keyboard or guitar, as long as he or she remembers what key the wing is in!
Even if you are not a music therapist, FreeNotes can be a great instrument to use because of how easy they are to play, and how relaxing the sound is. It could be an important part of self-care on any day when you feel like hearing a relaxing tune. It comes with two mallets, which two people could each use one and play together. This could make for a unique and fun way to interact with your child, while making beautiful music!
The FreeNotes are a little bit on the expensive end of the scale, because Richard Cooke makes each set by hand, by request, but I believe the investment is worth it. Children and adults both love them because they are easy to play and have an amazing sound. To get a little taste of the how it sounds, watch this clip!