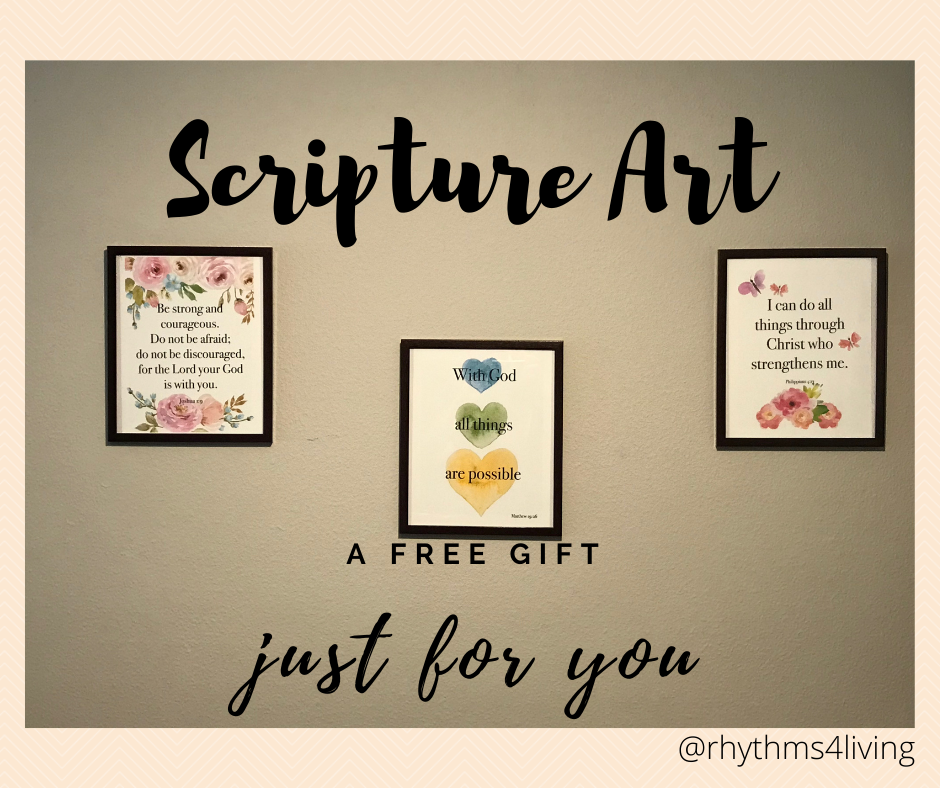 Filling our home with scripture is one of the best things we can do. Its a simple way to encourage ourselves daily with TRUTH and positive affirmations, to encourage our children to read and memorize scripture, and fill our homes with the WORD which is our sword of the Spirit against the enemy.
I have created six beautiful Scripture Art Printables which I am gifting to you to get you started filling with your home with scripture. I would encourage you to print them on cardstock and frame them. I simply went to the thrift store and dollar tree to get my frames and spent just a few dollars for all of them.
I would also encourage you to create your own Scripture Art with your favorite verses which you would like to memorize (or have already memorized) and fill your home with truth. Simply open a Word document (Pages if you are a MAC user), add your scripture and play with the various fonts, then add some art work. You can find free images online or try adding photos you've taken yourself of flowers, trees, nature…whatever inspires you.
I even printed some Scripture Art for my sons' rooms to hang over their beds with the Lord's Prayer and the Armor of God. Both of those I had found as a free download from other lovely bloggers! (Check out Pinterest) I often refer to these as we are praying at night before bed.
I hope you enjoy these FREE GIFTS and feel free to share with a friend. (Please send the link so they see where they came from!)