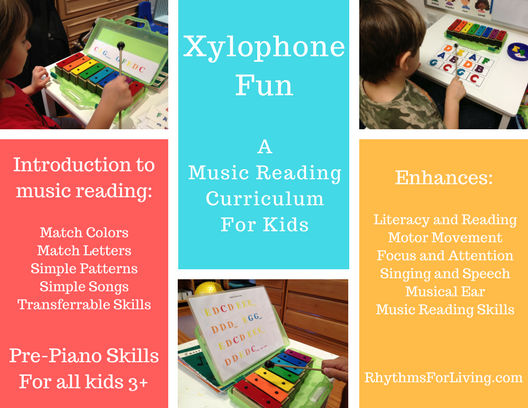 Whether you choose to homeschool or have found yourself homeschooling due to the crazy 2020-2021 we have had, or maybe you just have the kids home a lot more lately, you may be interested in introducing more activities into your kid's schedule. Many parents are looking for ways for their kids to learn new things and are often at a loss for activities. Here I will share with you a simple way to add music to your homeschool or summer schedule.
Want to add music to your homeschool or summer schedule? Xylophone Fun is a easy to use curriculum that can have your kids playing simple patterns and known songs quickly.
In all of my years of teaching I rarely found a child who wasn't interested in music. Especially the young ones. In all of my years of music therapy I rarely found a child with special needs who didn't perk up at the introduction of music to their learning and play time. In my time working with these kids I found a way to introduce basic music reading to children, even the young ones, and especially those with special needs.
I created the Xylophone Fun Curriculum through necessity during my years of music education and music therapy, but found it to be super useful for teaching many children across many populations. A child as young as three, with special needs or not, could learn through Xylophone Fun how to match colors, follow simple patterns, and soon play simple known melodies.
Kids will love to play songs that are familiar to them.
The Xylophone Fun Curriculum not only teaching basic music reading skills but it also encourages literacy skills and even math skills through the reading of letters and the rhythm of the songs. Kids start with matching color first, then letters, then read through simple patterns of colored letters, to finally playing through simple well known songs using the colored letters. Taking it a step further (into volume 3) the added skill of singing along (and reading they lyrics) while playing is really going to get the brain working!
What do you need to get started? You will need to purchase a set of Basic Beat 8 Note Resonator Bells or Rhythm Band 8 Note Desk Bells which can be purchased on Amazon or Westmusic.com. (While we do not sell these instruments we provide links to Amazon for your convenience.)
Then you will need to purchase the Xylophone Fun Curriculum. There are four volumes which can be purchased individually or as a package.
Once you purchase the curriculum you will receive your eBook for download. You may use the eBook as-is on a computer or iPad, or you may print out the pages and use them physically. I like to laminate them for durability.
Included in your ebook are manipulatives which you will need to print out on cardstock or laminate for durability. These are fun and useful for the kids to move around to match with their bells or xylophone bars (resonator bells) and helpful for the youngest kids who are just matching color (great first step).
Each volume increases in difficulty and adds new songs. Volume 3 offers lyrics to the songs so kids can sing along. The Christmas Volume also offers lyrics and song are a bit more challenging. I have used this curriculum with children ages 3-10, and older if they have special needs. My elementary aged children with autism loved it.
Recommended for ages 3-10
So if you are looking for a simple way to add to music into your weekly rhythm I highly suggest trying Xylophone Fun. I know your kids will love it!
All the information you need to is here: Xylophone Fun Curriculum There's even a video to give you a sneak peak!