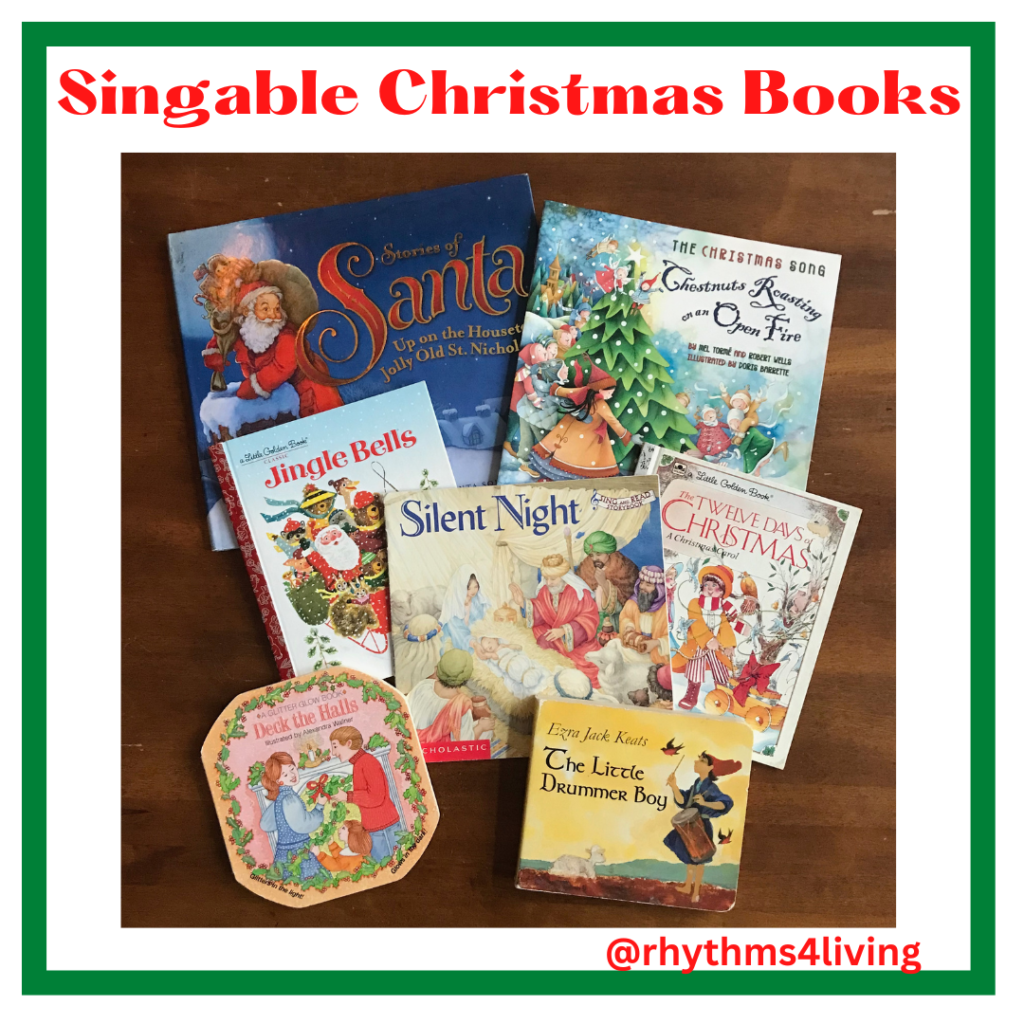 Snuggle Up With Books and Sing
Grab some of these fun, singable Christmas books and snuggle up with your kids! Grab some blankets, pillows, and hot chocolate and make memories! These books are some of my favorites because they are all books that we can sing. Most of them are well-known Christmas carols or songs so the kids will be singing along. For songs they don't know so well they will be able to read the words along as you go. If they aren't reading yet, I still take the time to point to the words as I go so they can start to associate the words I say or sing with the printed word.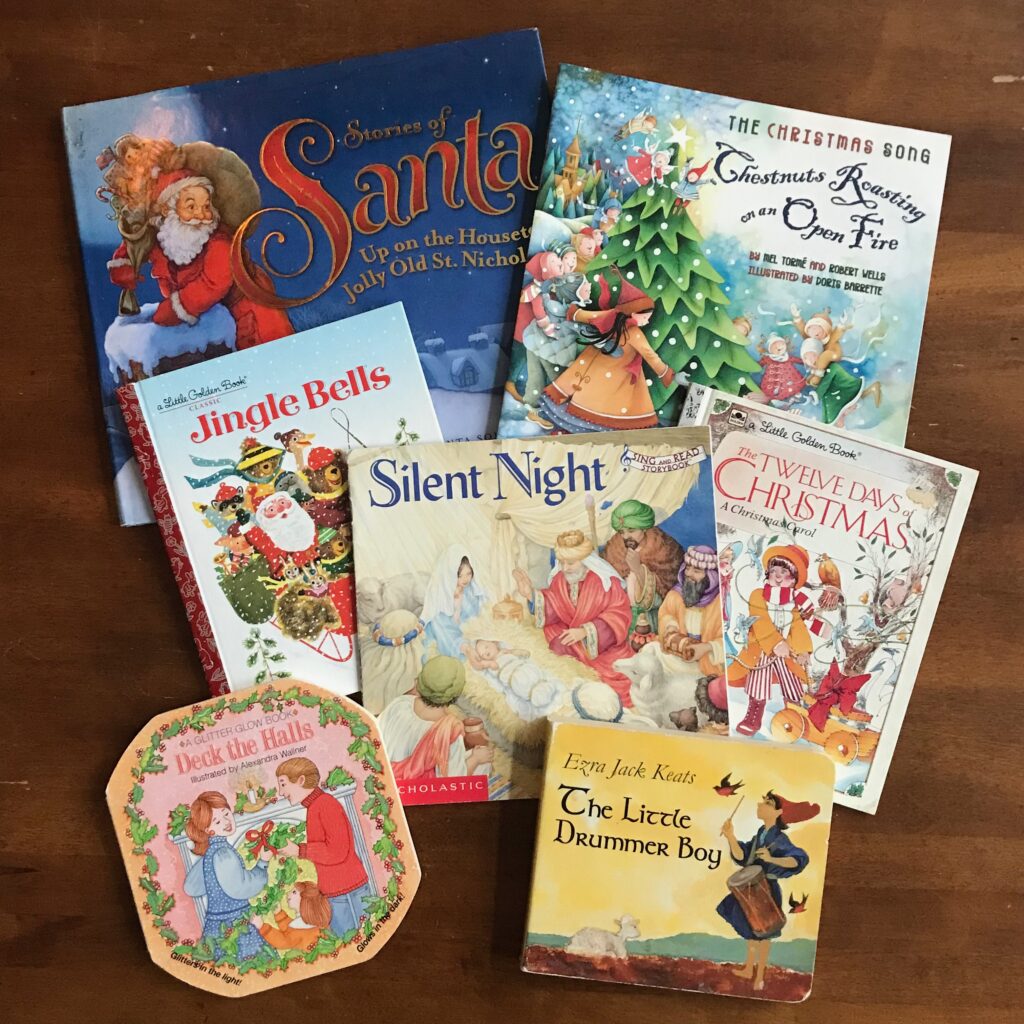 Jingle Bells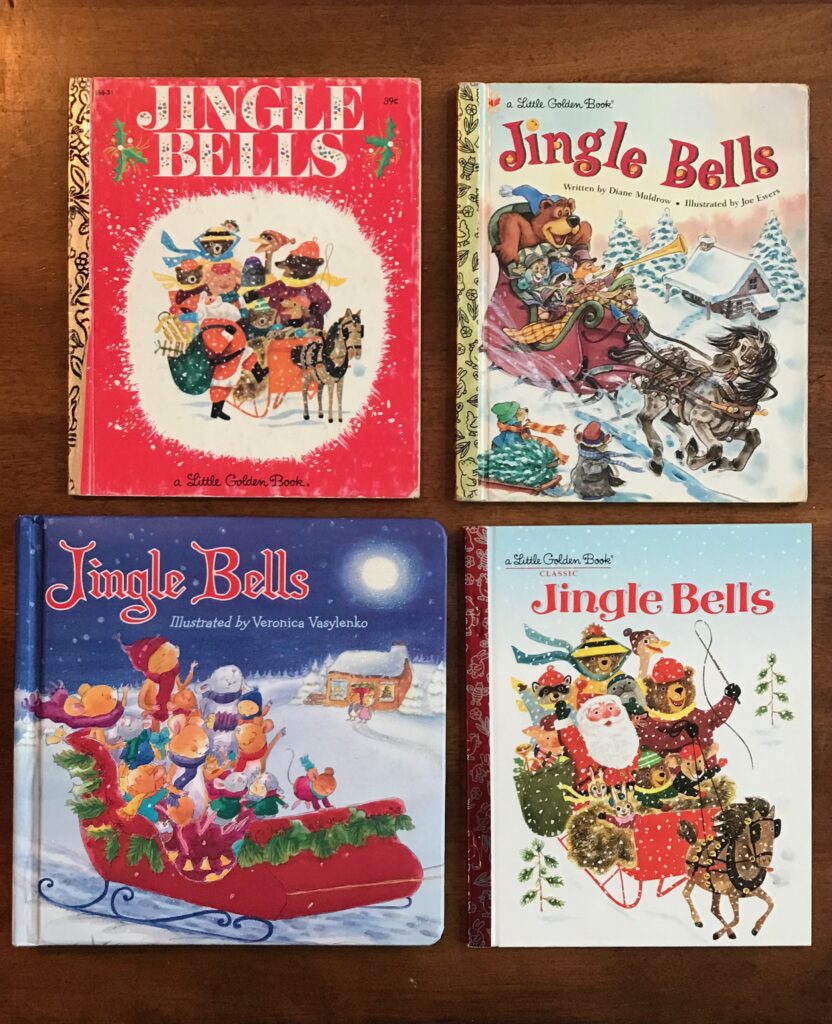 I don't know any kid who doesn't like Jingle Bells. It seems to be one of the most well-known and easiest to learn. I have four copies of this book, each a different version, but basically all the same song.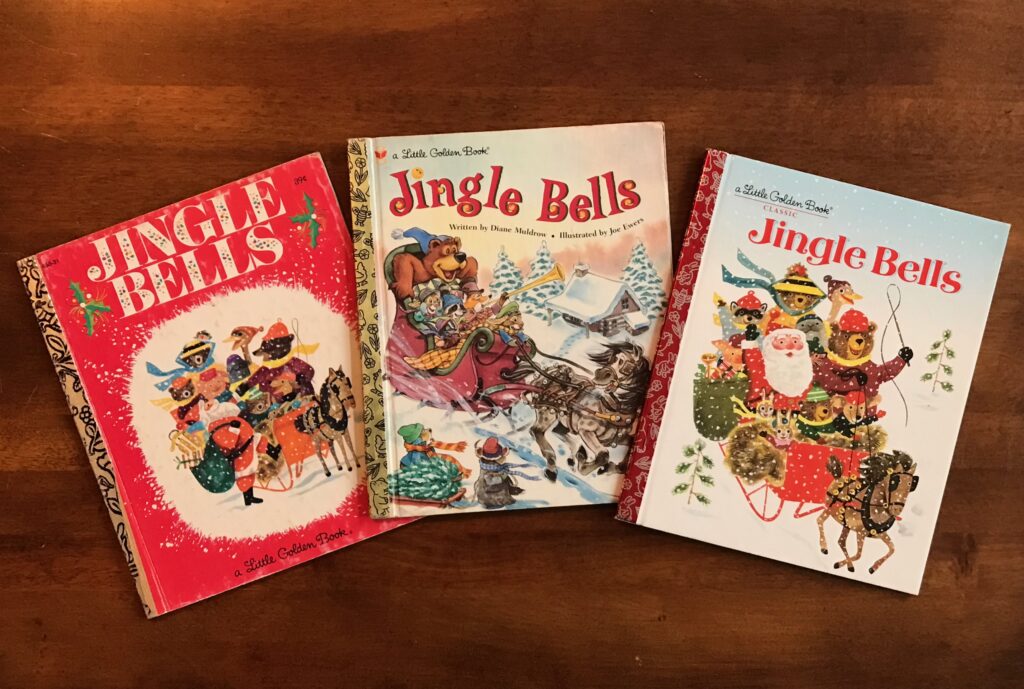 Stories of Santa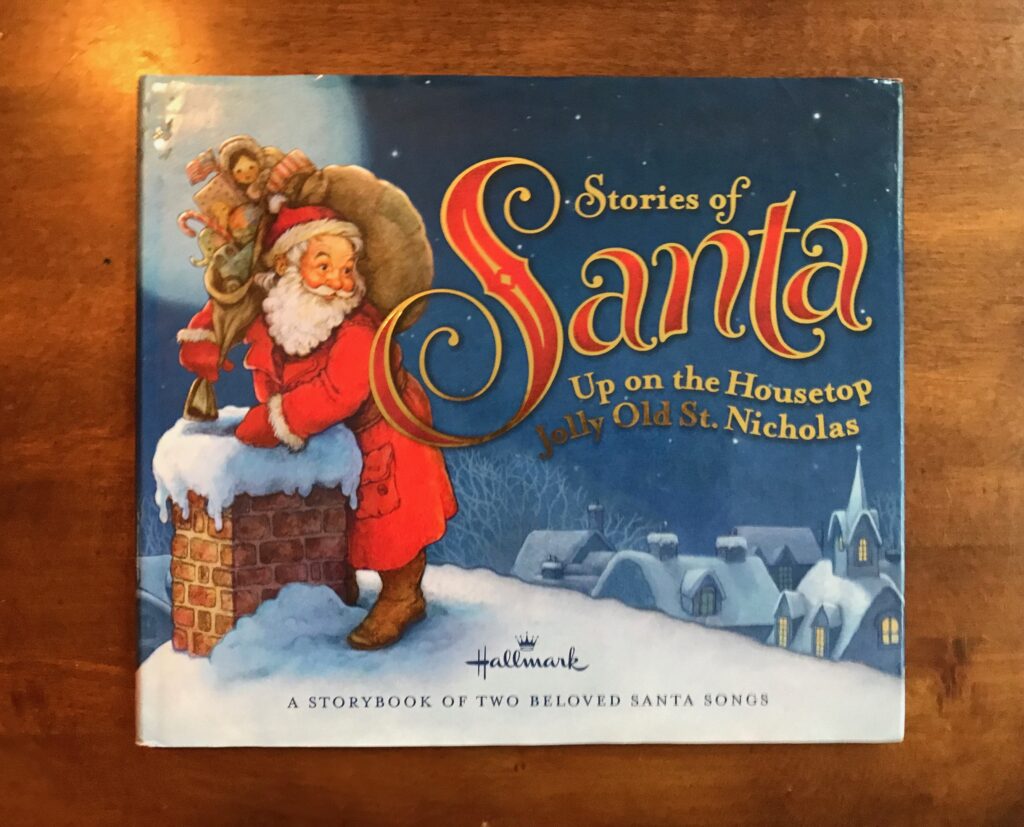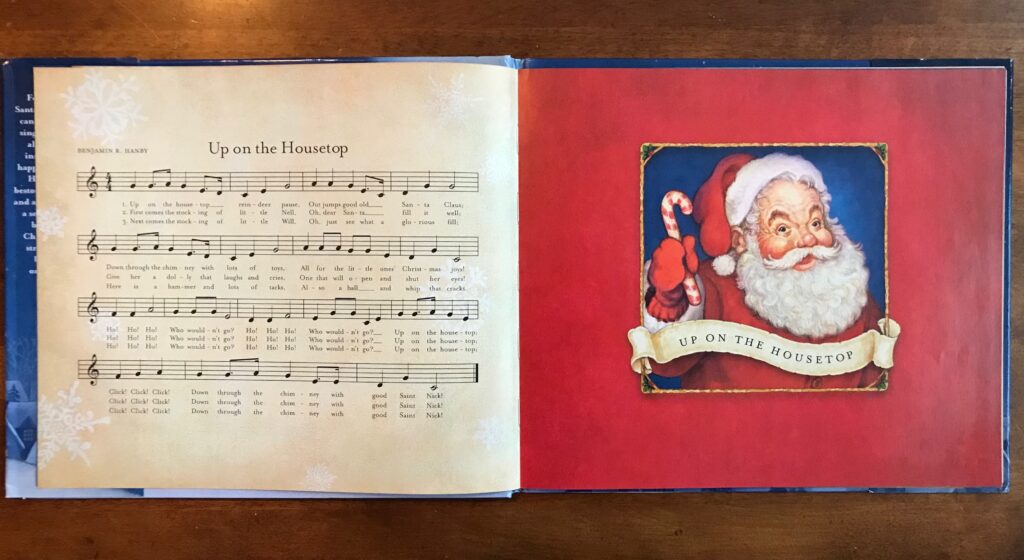 This beautifully illustrated book has two well-known Santa songs: Up on the Housetop and Jolly Old Saint Nicholas. I love the vintage illustrations and the simplicity of the songs.
Frosty The Snowman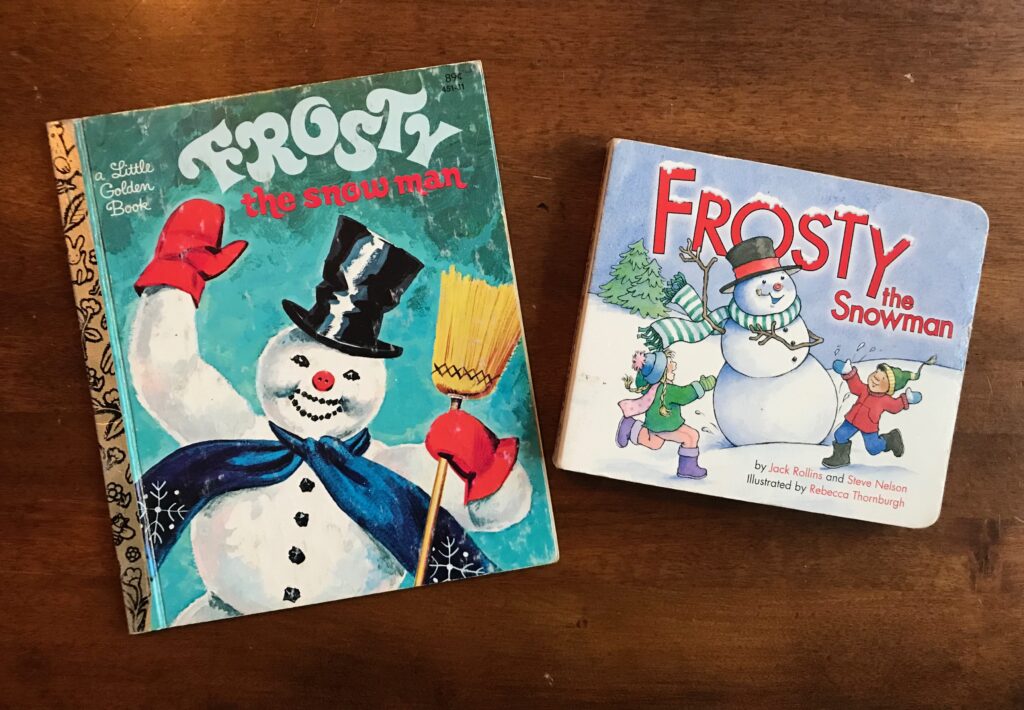 Frosty the Snowman is another favorite but I don't think everyone knows all of the words. Both of these versions are easy to follow along. I prefer the vintage golden book but the board book is perfect for younger kids.
The Little Drummer Boy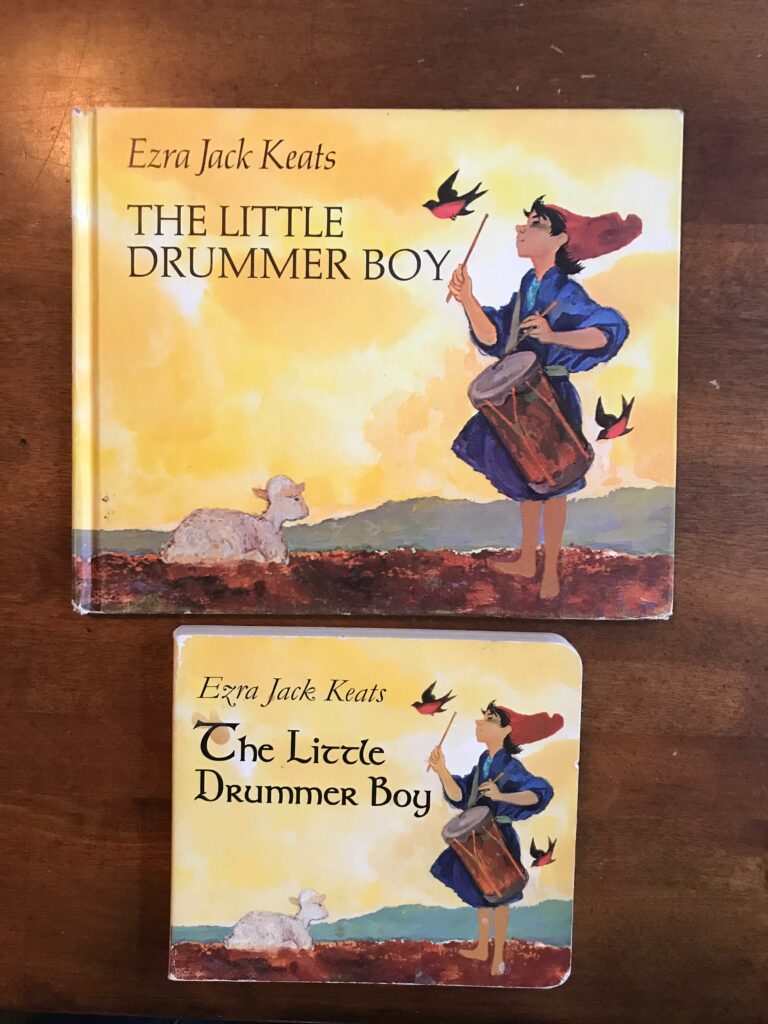 I can remember my son at 4 years old walking around singing pa-rum-pa-pa-pum. This was his Christmas song and we read through this book often. I have this book in hardback as well as a board book. Again, the illustrations are lovely. You may recognize the author/illustrator Ezra Jack Keats. He also wrote The Snowy Day.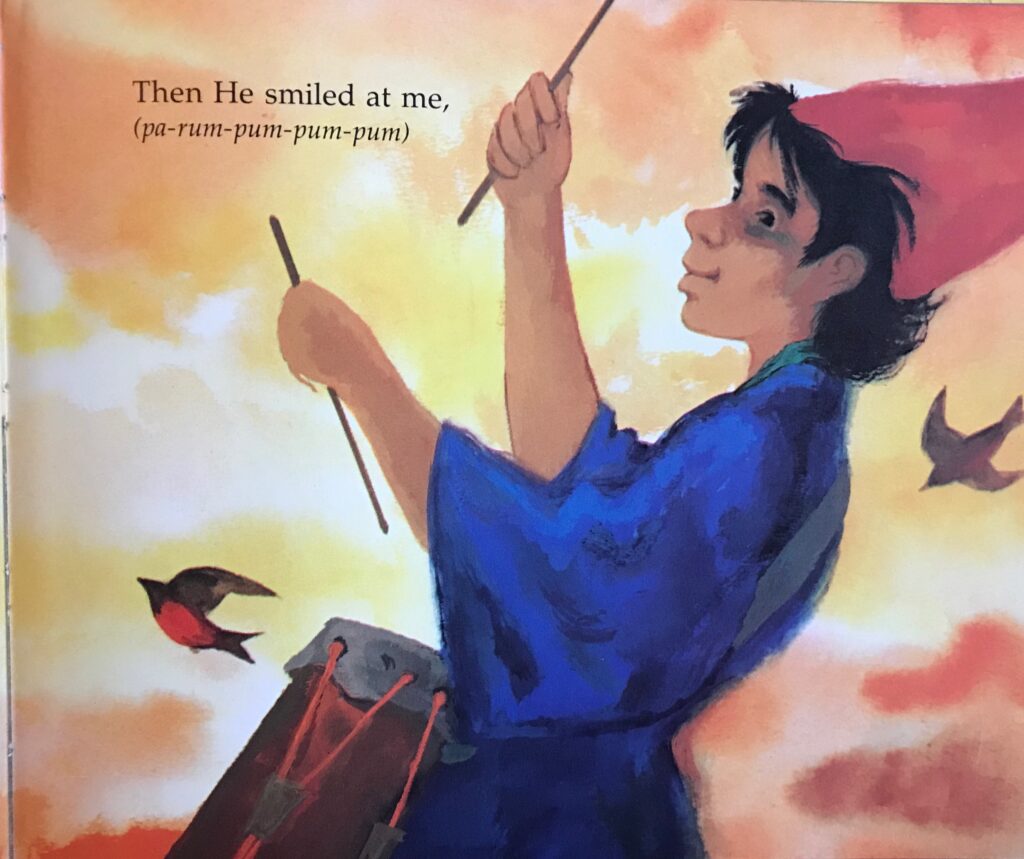 The Twelve Days of Christmas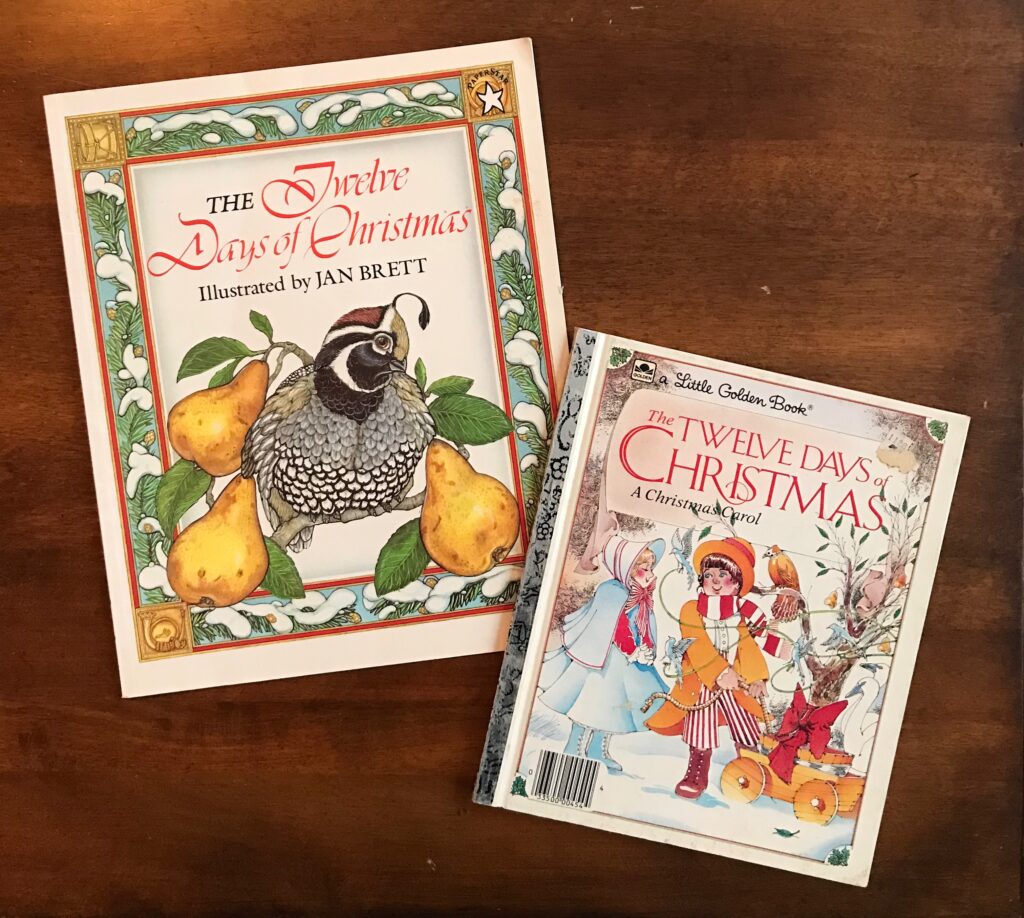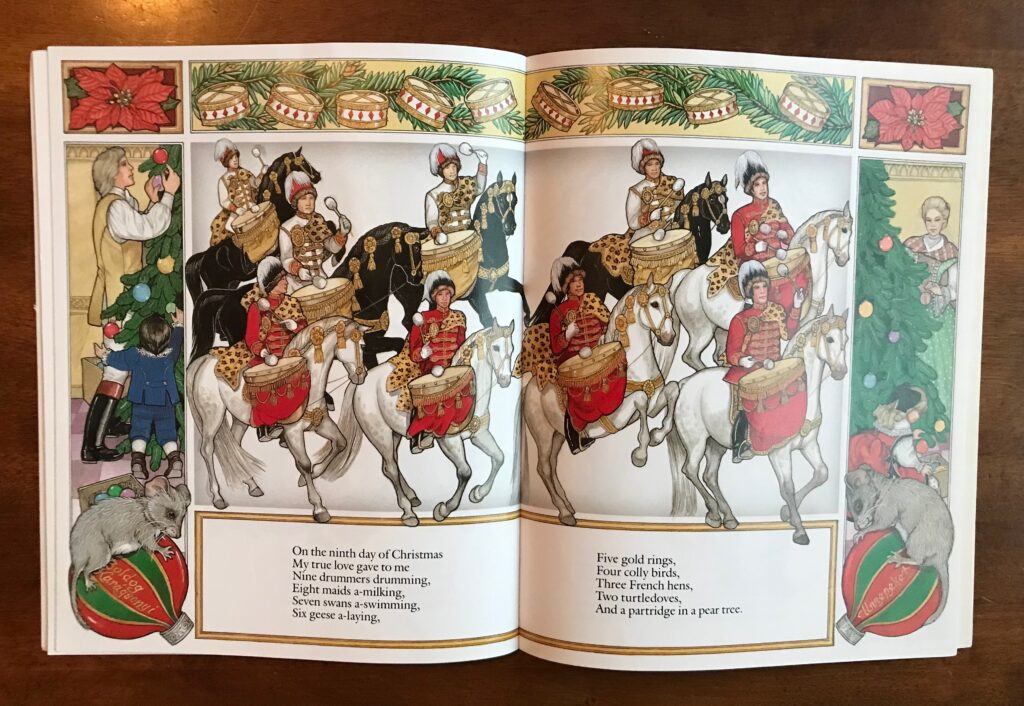 This song definitely needs to be sung with a book in hand to remember all of the verses! This book is filled with repetition, counting, and sequencing – a teacher's dream. Each verse adds a new gift and increases in number, then repeating all of the previous gifts. By the end you are counting backwards from 12 to 1. Honestly, did a teacher write this song?
I have two versions of this book, one by a favorite author Jan Brett, and another golden book. Both have gorgeous illustrations.
I have picked up three of these State Books sung to the same tune of Twelve Days of Christmas. My oldest son was born in Florida and my youngest born in Washington. This year I picked up the North Carolina version as we now live in NC. These books teach kids about the state through famous landmarks, types of food, animals, and habitats, all native to that state.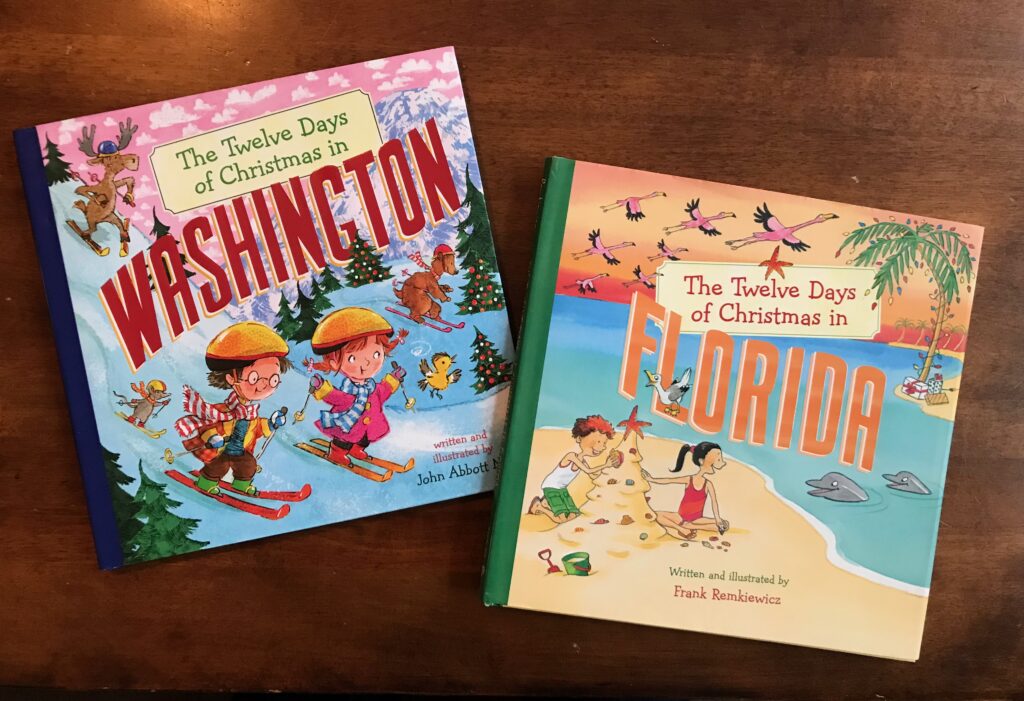 Silent Night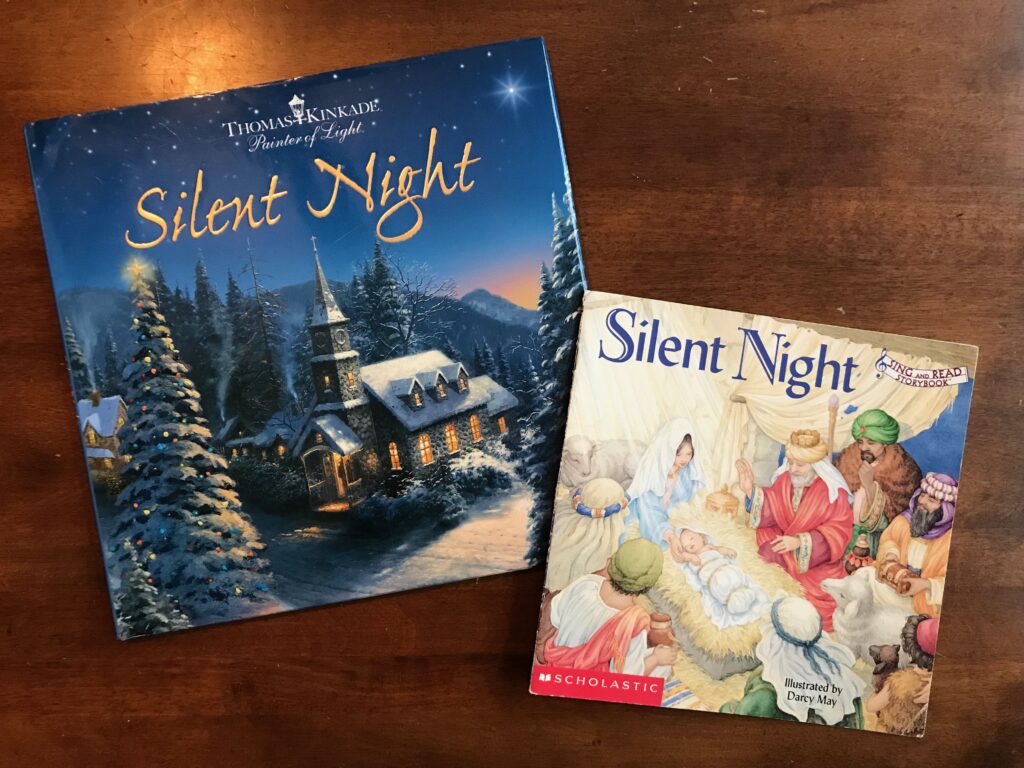 Silent Night is one of my top favorite Christmas carols because it is so true to the meaning of Christmas. I have two copies of this carol, one by Scholastic, and one featuring the art of Thomas Kinkade. The Scholastic version shows realistic images of the nativity and is beautiful. The Thomas Kinkade book is unbelievable. I'm not even sure where I picked it up. If you know Kinkade's art you know he is the "Painter of Light". He has a way of making every image glow and light up. His art is perfect for this holy and magical song and subject.
A Few More Favorites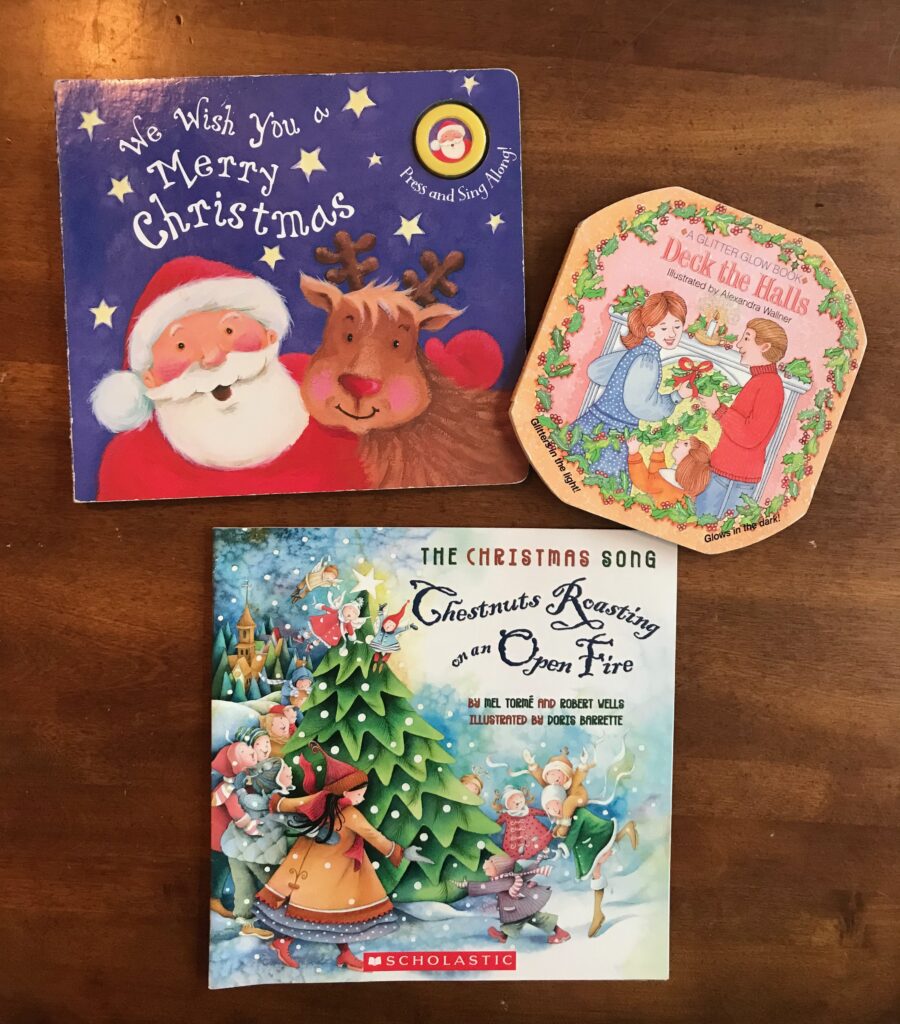 This We Wish You A Merry Christmas is perfect for the littles ones in your family. If you press the button it plays an instrumental version of the song. This is another easy one to follow along to, and everyone knows it.
This Deck the Halls is from my childhood. Can you tell by the 70's clothing? It has glitter on each page and glows if you light it up with a light. Its a sweet book to sing along with the song.
I recently found this The Christmas Song book by Scholastic. This has always been a special song for me at Christmas time. The Carpenter's version of this song reminds me of my grandmother and is close to my heart. I was excited to find a book to go with it! The images are so sweet.
Over the River and Through the Wood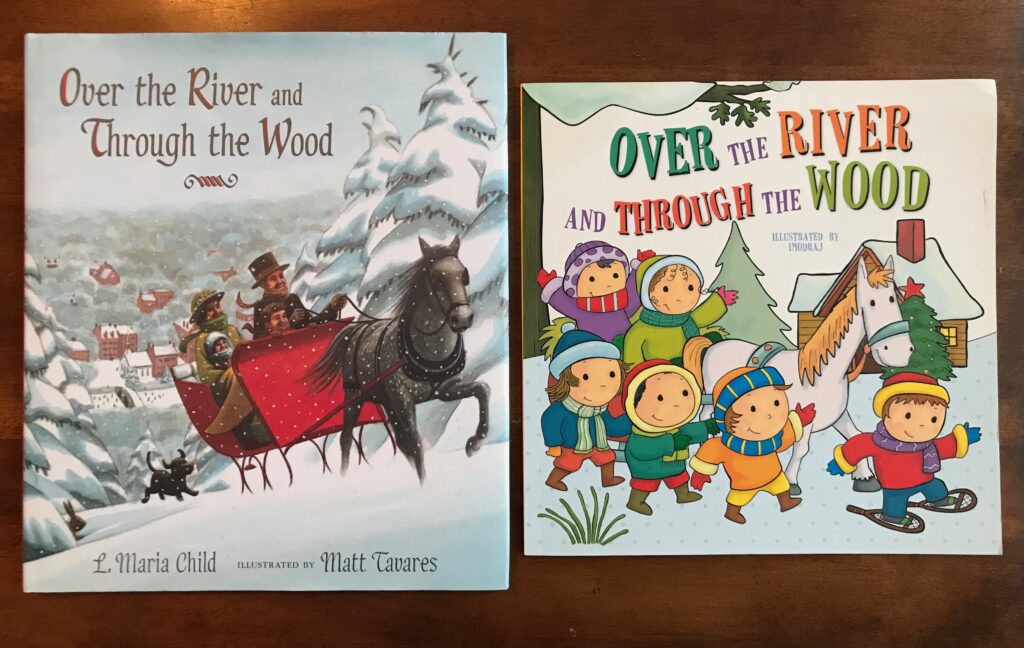 This song tends to be perfect for the whole holiday season. Some versions say "Thanksgiving Day" and other's say "Christmas Day". I have two versions of this book and one says Thanksgiving and one says Christmas. The Child and Tavares book is set in New England and is lovely. The other book I picked up at a dollar store I think.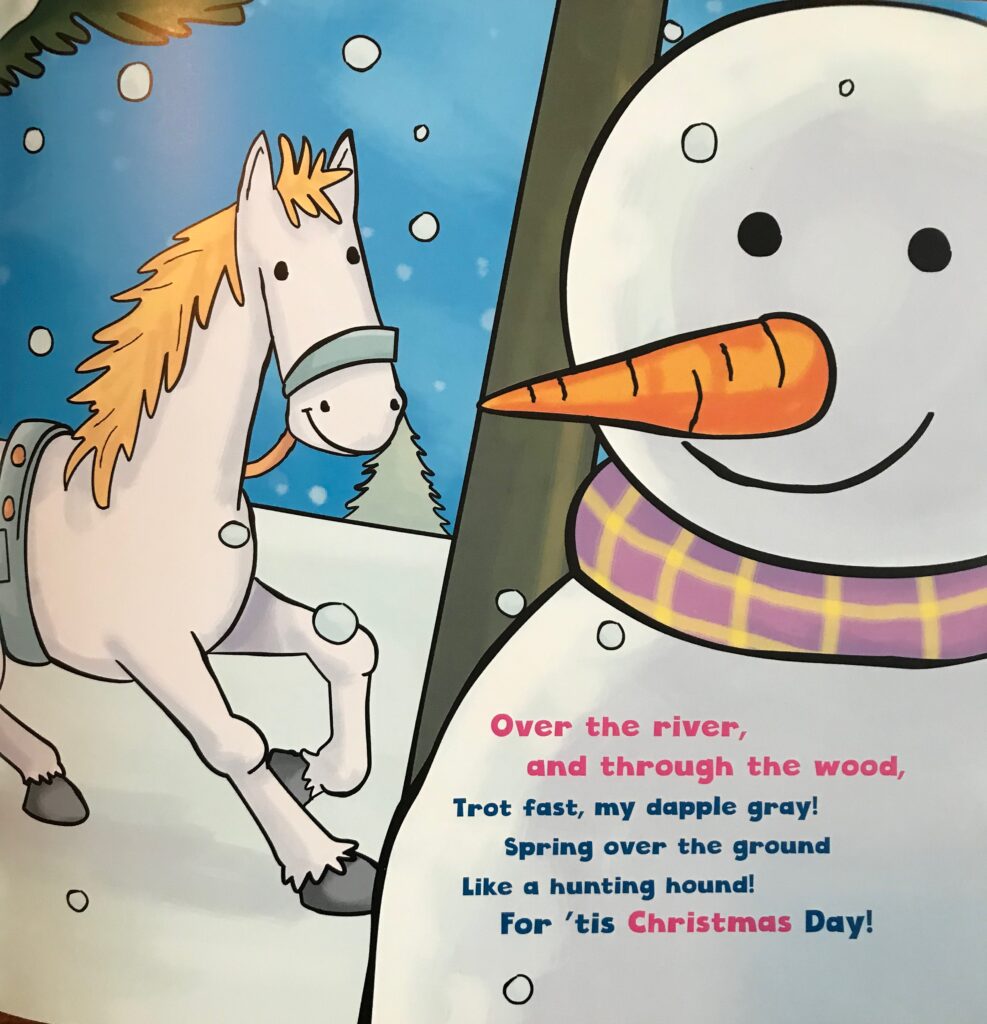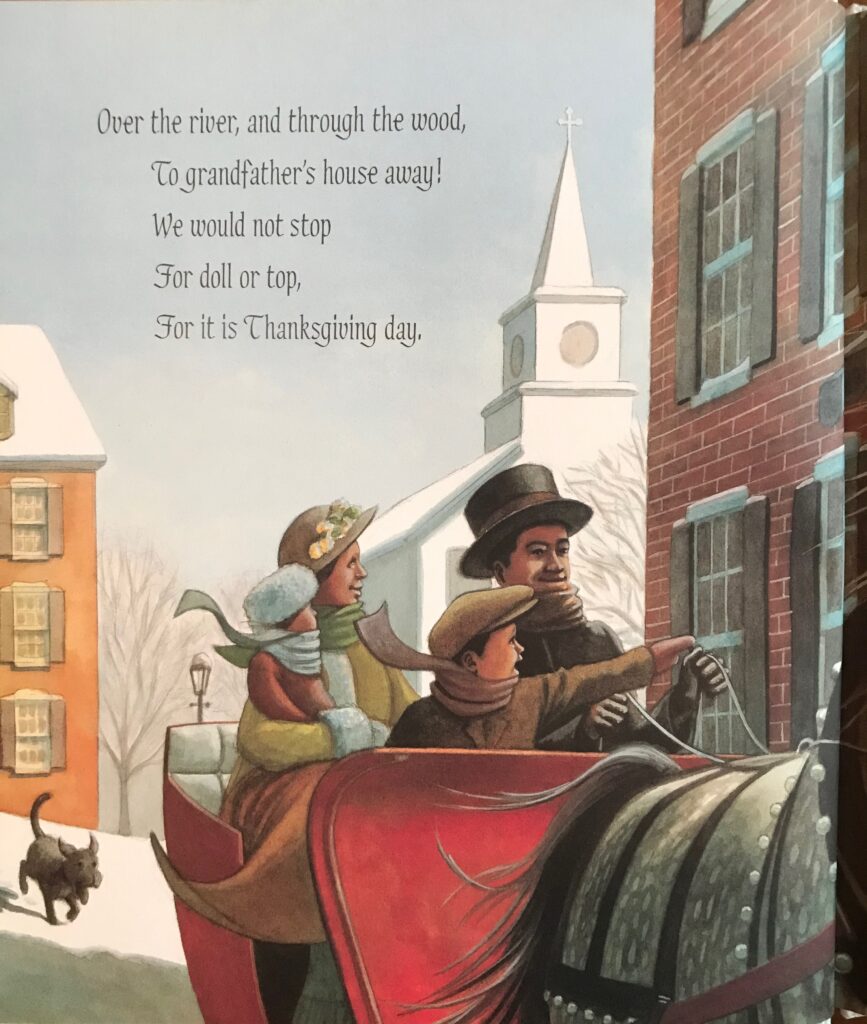 Where to Find These
If any of these tickled your fancy and you've just got to get your own copy, I have placed links for them below. Please remember that I am a member of Amazon associates which means if you purchase one of these through my provided link, I may receive a small commission but you will not pay any more.
Jingle Bells (Little Golden Book)
Jingle Bells (Padded Board Book)
Frosty the Snowman (Little Golden book)
Frosty the Snowman (board book)
Little Drummer Boy (paperback)
Twelve Days of Christmas (Little Golden book)
Twelve Days of Christmas (Little Golden book other)
Twelve Days of Christmas (Jan Brett)
The Twelve Days of Christmas in America
Silent Night featuring Thomas Kinkade art
We Wish You A Merry Christmas (Board Book)
Deck the Halls (Board Book)
Over the River and Through the Wood (L. Maria Child)
What Are Your Favorite Singable Christmas Books
I'd love to know if you have a favorite singable Christmas book! I've already started a wish list for some new books I have found while looking around the books on Amazon. Just don't tell my husband!
This post includes affiliate links for your convenience. I only share things that I truly love and think you will too. Clicking these links to purchase will help support my blog so I can keep creating fun things to share with you. You will never pay more by using an affiliate link.